iZotope Upgrades Trash To Version 2
iZotope, Inc. has upgraded Trash, their audio mangling and distortion plug-in, to version 2.0. Completely rewritten from the ground up, Trash 2 has an entirely new sonic architecture, brand new features, optimized performance, better sound quality, and support for modern hosts and formats.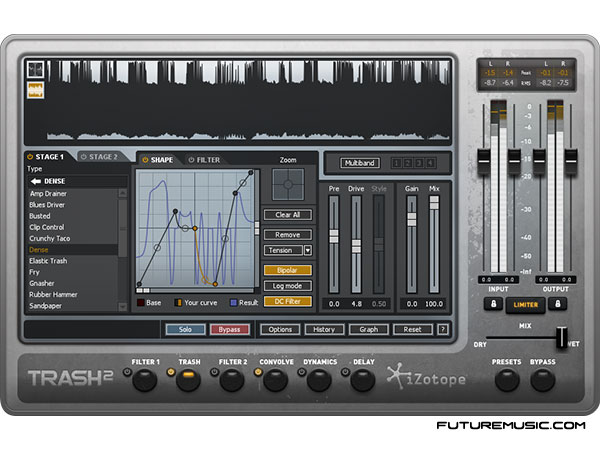 Trash has been somewhat of a cult favorite of artists such as Nine Inch Nails, Noisia, Garbage, Korn, Sigur Rós, and anyone looking to add dirt, grime, and character to their tracks. Fully overhauled from Trash 1, Trash 2 adds a wealth of new features including twenty new distortion algorithms, fresh filter modules, fifty new impulse responses, multiband waveshaping, 64-bit and AAX support and much more.
Features:
» Distort in ways you never dreamed with the Trash module's 60+ distortion algorithms
» Design your own unique distortions, from massive to mild and everything in between, with a new, customizable, multiband Waveshaper.
» New Convolve module. Choose from over 100 impulse responses, or load your own to put your bass in a washing machine or your keys in a cave.
» Redesigned Filters, each one featuring new vowel formant filters, screaming peaks, node modulations, and more.
» New preset library and an ear-friendly Limiter that ensures you can play without fear.
» New Edge Expansion Pack, full of extra-exotic and extra-gritty presets for a broad range of sonic treatments, the Edge Expansion Pack is perfect for unconventional guitars, synth basses, synth pads, drum mangling, and more. With 30 new impulse responses for further tone coloring and 70 new presets built directly for these impulses, the Edge Expansion content was born to bring out the best of Trash 2's classic out-there sound.




iZotope's Trash 2 is available for $149 / €195 through December 6, 2012. Trash 2 Edge Expansion Pack is available for an additional $29 / €25.
Upgrade Information: Trash 1 customers who purchased on or after October 1, 2012 will receive upgrades to Trash 2 for free.
For Trash 1 owners who purchased prior to October 1, 2012, special upgrade pricing of $99 will be available.
iZotope