Eowave Domino Review
French manufacturer Eowave's new Domino monophonic bass analog synthesizer is not just another Roland TB-303 clone looking to cash in on producers looking to lock down a true analog synth for creating tweaky acid lines. With a biting, punchy sound that loves to "scream," the Domino is aimed squarely at the exploding Dubstep scene.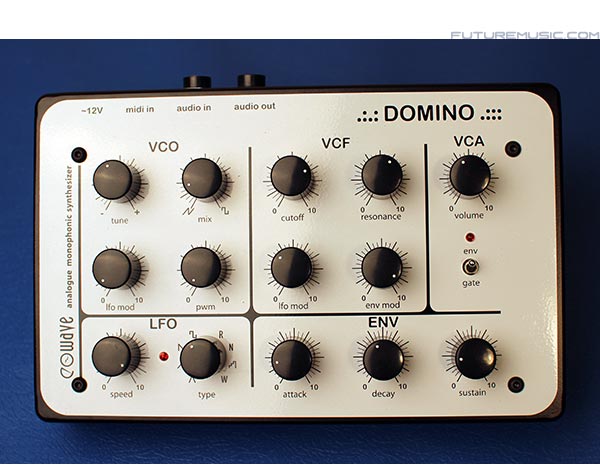 The Eowave Domino features an economical, yet ergonomic interface


Features & Specifications:
» Single analog oscillator
» Saw / Square Waveforms?Waveforms can be tuned (+/- Seven Semitones) and mixed
» LFO modulation
» Pulse width modulation
» 24dB resonant low-pass filter
» Envelope modulation and LFO modulation of the filter
» LFO with Speed and Type parameters
» LFO can be synced to MIDI clock
» Envelope with Attack, Decay, Sustain
» Analog VCA
» Envelope/gate switch
» 8-step sequencer via Keyboard Controller Modwheel
» Internal Arpeggiator
» No Memory Locations
» MIDI in
» Mono Audio out
» Mono External Audio input
» Size: 18.5 x 12 x 5.5 cm

Small Size, Big Sound
The Domino is small and we mean really, really small. With a footprint of only 19 x 12 cm, the Domino can almost fit into your back pocket. Despite its small demeanor, Eowave didn't skimp on the build quality and components, which our reviewers described as "first-rate." The Domino features a VCO, VCA and filter in the tradition of the 303 and MS20, but the similarities stop there with the transistor design, which provides a much more "brittle and gritty" sound structure.

Are Your Ears Bleeding? Or Are You Just Happy To Hear Me?
The filter, that can "easily cause your ears to bleed when overdriven," is a low-pass 24dB affair and the VCO offers a choice between square and sawtooth, which can be mixed together. As with other monosynth's you can assign the filter to the LFO to create that distinctive wobble that's all the rage right now. The LFO can sync to MIDI clock and allows you to choose from seven waveforms: saw, inverse saw, triangle, square, random, noise, staircase, and a modwheel mode, which allows your MIDI controller keyboard to be utilized as an 8-step sequencer. The Envelope section is as basic as it gets with attack, decay, and sustain.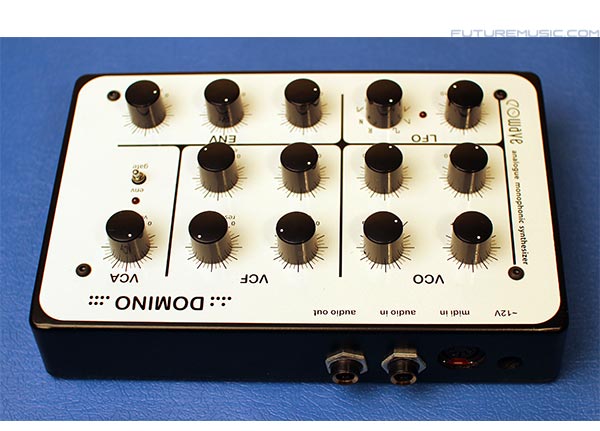 The Domino's filter, that can "easily cause your ears to bleed when overdriven," is a low-pass 24dB affair


Although, there are only 14 knobs on the Domino, there's some additional action underneath the hood. The Eowave Domino features an internal arpeggiator motivated by MIDI CC's 4 (Mode), 5 (On/Octave) and 6 (Latch On/Off). For those who are looking to create rhythmic cadences, the Domino also contains Accent, by sending MIDI velocity over 120, and Glide via legato. Finally, there's an external audio input for using the Eowave Domino as an effects processor.


In addition to mono audio out and MIDI In, the Eowave Domino features an external audio input


For the most, part our evaluators came away pleased with unit's sound in this Eowave Domino review. One younger reviewer found the Domino to provide a "rich" and "dense" sound, which "created an additional harmonic dimension that most virtual synths can't compete with…" Another, got excited about the "organic depth" that his Dubstep basslines obtained, which his "plug-ins couldn't match." Another reviewer enjoyed layering the Eowave Domino over Native Instruments' Massive to create "a moving and evolving soundscape."

Conclusion
Eowave, a company who definitely thinks Out Of The Box, has developed a real contender in the micro analog monosynth market, which suddenly has several exciting contenders, including Eowave's new Magma (Initially announced as the Koma last year. —Ed.). At its very accessible price point, we can see the Domino being attractive to musicians who are looking to add a more holistic approach to their screaming leads, basses and acid lines while still remaining true to the open-wound sound of hard-hitting music genres.

The Future
The ability to save a handful of patches would be nice for live performance use.
» FutureMusic Rating: 85%


Cheers:
+ Sound Quality
+ Build Quality
+ Easy To Use
+ Hidden Features

Jeers:
– No power supply
– No Memory Locations
– Manual
Off The Record:
"I was amazed how the Domino grew on me over time." —Bruce Dealer
"Looking to add some cranky acid lines to your Dubstep productions?" —Dan Brotman
"For such a hands-on synth, I would suggest adding another row of five knobs for immediate tweakability instead of having to utilize MIDI for those parameters." —Greg Geller


Eowave's fun Domino costs €250 and is available now.
Eowave