Twelve South Releases HiRise Stand For MacBook
Twelve South has announced the HiRise for MacBook, a height-adjustable stand that lets users elevatee their laptops above other gear such as MIDI Controllers. The stand that resembles a stylish, brushed metal mechanic's hoist can raise a MacBook up to six inches. Silicone-lined, V-shaped arms securely grip the bottom of MacBook to hold it in place, and it's compatible with all MacBook Pro and Air models.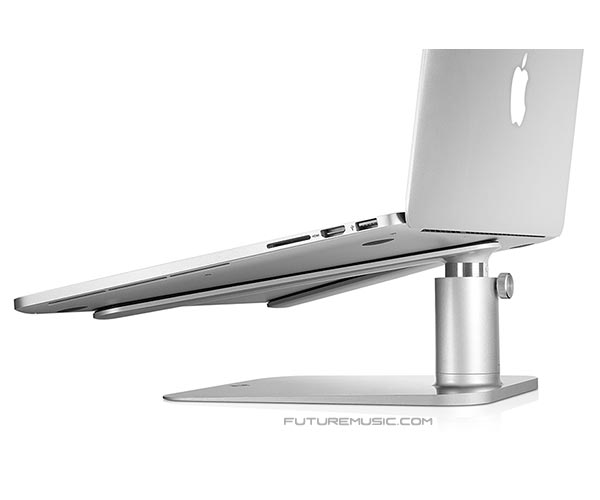 Crafted from brushed metal, HiRise has a spring-loaded post that is used to easily adjust the height of the stand. You can set your laptop low to the desk to focus on your MacBook screen or raise the height to align your MacBook with your preferred external monitor. The V-shaped arms of HiRise are lined with soft, textured silicone that securely grips the bottom of your MacBook.
Beyond its good looks, using HiRise has additional benefits for users and their Macs. Elevating your MacBook provides a more ergonomic, back-friendly workstation. The V-shaped arms of the stand also allow maximum airflow around MacBook, which helps to keep the laptop cooler during use.
Twelve South's HiRise for MacBook is available directly from the manufacturer and at Apple Store for $69.95, and exclusively at Apple Store Europe now for £49.95 / €69.95.
Twelve South