Moog Announces 500 Series Analog Delay Module
Moog has announced a new 500 series Analog Delay. It is a MIDI syncable module that features a 100% analog signal path, front panel MIDI, and an assignable Tap Tempo/CV jack. Included with each unit is a free VST/AU/RTAS editor for easy implementation into any recording, live, and performance situation.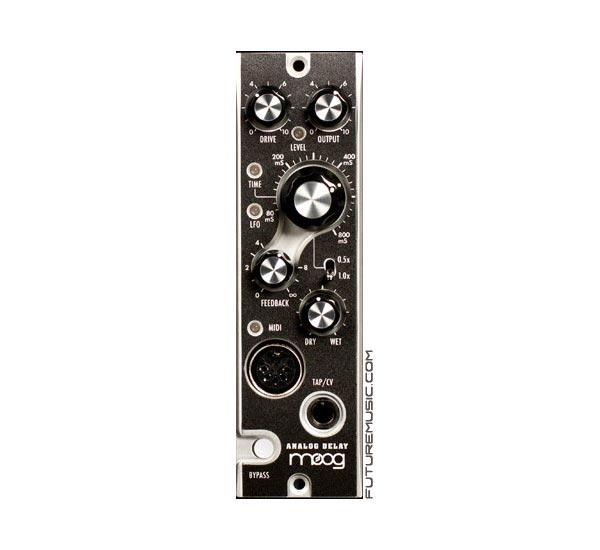 The Analog Delay has been designed with tone, connectivity, and flexibility at the forefront. Moog's engineering team worked to deliver a 500 Series module with a clean front end that could easily pushed into a warm, natural overdrive for saturated delay trails or beyond for more distorted effects.
Though not on the front panel, the Analog Delay features a 6 Waveshape LFO that allows you to create other time based effects such as tape delay, chorus and extreme modulated sounds. The LFO can be easily accessed via MIDI or the free VST/AU/RTAS Analog Delay plug-in editor.
Also accessible via the editor are advanced features like Tap/CV input routing, Keyboard Control settings, Clock Divisions and a Delay Multiplier for access to illegal times up to 4x the front panel position. The Tap/CV input also can be fed audio from a click track to act as a tap tempo source.
Features:
» 40-800ms Analog Delay Time
» .5x/1.0x time and filter switch
» 32dB of input Drive
» Assignable 1/4″ Tap Tempo and CV input
» MIDI control
» 6 Waveshape LFO
» Free VST/AU/RTAS editor (AAX coming soon)
» Stereo Linkable
The Moog 500 series Analog Delay costs $999 and is available for pre-order.
Moog