Audiofile Engineering Announces Triumph – New Mac OS Audio Editor
Audiofile Engineering has announced Triumph, an upgrade to their Wave Editor audio editing application. Available as an app for Mac OS X, Audiofile has a new perspective on audio editing with Triumph as an "audio designer."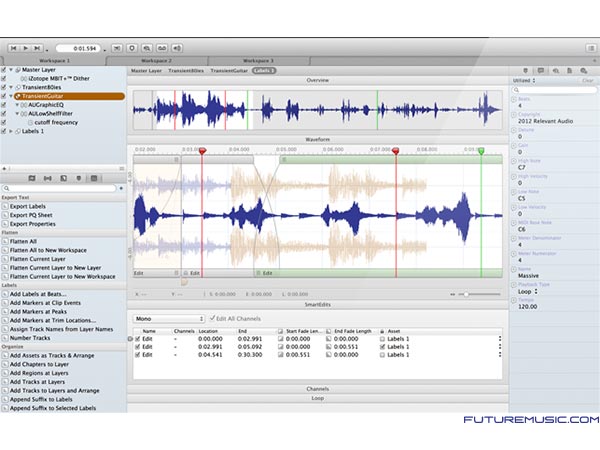 Triumph is much more than just a new version of Wave Editor, which is also the reason for the new name. "Our goal is to always be on the cutting edge of technology and interface design. We completely rewrote Wave Editor. We rethought everything, not only how to improve on what we built in Wave Editor, but how we could bring the concept of an audio editor forward", says Matthew Foust, founder of Audiofile Engineering, "Triumph takes full advantage of all of the latest technologies Mac OS X has to offer."
Triumph features a unique and patented method for editing audio: Layers. It's similar to image editing in technique, but is specifically tailored for audio. The Layers method is an innovative way to create combinations of sounds. It saves time by keeping everything live and editable until the final product and results in less guesswork and more speed.
The new FHX effect in Triumph solves a number of the issues often associated with listening to music on headphones. FHX creates a more spacious, natural sound stage over headphones — enabling an exceptional listening experience that will truly inspire and engage.
Audiofile Engineering has teamed up with iZotope and now includes iZotope Restore & Restoration as well as the advanced iZotope MBIT+ and 64-bit SRC options for disc burning in Triumph.
New Features & Enhancements:
» Redesigned Meters inspired by the beautiful UI from the Spectre, Audiofile's real-time analysis application
» Auto Save and Versions – automatically save your projects with browse history
» Multi-Touch Gestures
» Full Apple Script Support for complex workflows, automation and interacting with other applications
» Actions for a clean, uncluttered interface and intuitive workflow
» Effects Groups – save a group of Effects including their settings for use on future projects
» Effects Automation – new Shapes feature can automate the parameters of an effect
» High performance scrubbing and innovative FHX headphone listening plug-in
» Hardware Output & Channel Mapping for greatly improved system configuration
» Full Support for iXML
» Support for Retina displays
» Analog Simulation
Triumph is looking to be the go-to solution for sound design, editing, mastering, and CD layout. A unique application that fulfills a real need, allowing users to work with Layers and SmartEdits. When it comes to mastering in Triumph, audio professionals can streamline their workflow with greatly improved layout tools, DDP 2.0, and Red Book CD burning.
Triumph requires Mac OS 10.7.0 or higher (10.7.5 recommended). It is available via Audiofile Engineering's online store and is on sale for $59.99, 25% off the regular price of $79.99,through November 16th. Users who purchased Wave Editor 1.5 on or after May 1st, 2012 may request a license key for Triumph 2.0 at no charge.
Audiofile Engineering