Apogee Announces New Symphony I/O Pricing & Configurations
Apogee Electronics has announced new configurations and pricing for their flagship audio interface, Symphony I/O. Introduced only a couple of years ago, Symphony I/O has quickly found a place as as one of only a few select, professional multi-channel recording interfaces.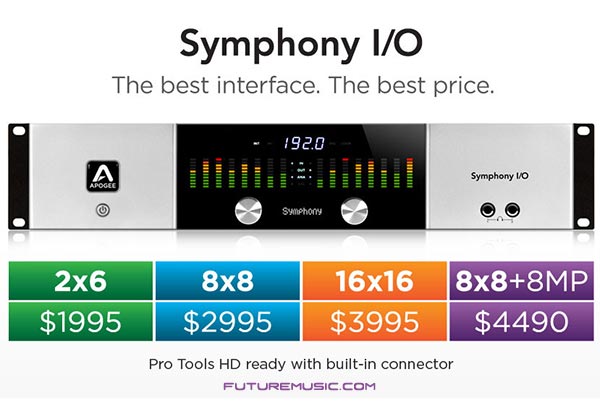 Symphony I/O is now offered in four configurations with the ability to expand using one of the five available I/O Modules. Configurations include; Symphony I/O 2×6, Symphony I/O 8×8, Symphony I/O 16×16, Symphony I/O 8×8+8MP. These four configurations offer the perfect starting point when purchasing Symphony I/O. With each configuration, customers have the ability to easily expand with up to fourteen possible combinations maxing out at 32×32 Analog I/O in a single Symphony I/O.
New Configurations and Pricing:
» Symphony 2×6 Configuration
— Symphony I/O Chassis + 2×6 Analog I/O Module Price: $1995
» Symphony 8×8 Configuration
— Symphony I/O Chassis + 8×8 Analog I/O Module Price: $2995
» Symphony 16×16 Configuration
— Symphony I/O Chassis + 16×16 Analog I/O Module Price: $3995
» Symphony 8×8 + 8 Mic Preamps Configuration
— Symphony I/O Chassis + 8×8 Analog I/O Module + 8 Mic Preamp Module Price: $4490
Available I/O Modules:
» 2×6 Analog I/O + 8×8 Optical + AES I/O (only available in configuration)
» 8 Analog I/O + 8 AES/Optical I/O Module – $1995
» 16×16 Analog I/O Module – $2995
» 16 Analog IN + 16 Optical OUT – $1995
» 16 Analog OUT + 16 Optical IN – $1995 • 8 Mic Preamp – $1495
Apogee