Take Your Halloween Costume To A Whole New Audio Level
Brings A Whole New Meaning To Dubstep!
ThinkGeek premiered Mega Stomp Panic just in time for Halloween. Described as an Audio Reality Costume, Mega Stomp Panic contains 9 different themes that enables the user to "augment" their sonic reality by matching their leg movements (either stepping or stomping), and then playing perfectly timed sound effects to create the audio illusion. This is nothing new, but an all-in-one package for 40 bucks makes it mighty attractive.



ThinkGeek is doing some Audio Reality enhancement of their own with the waaaaaaaaay boosted video soundtrack below, so be warned that your mileage may vary as far as the volume goes…



Features:
» Recommended ages: 14+
» Audio fun for cosplay, Halloween, or everyday stomping about (My 6 year old would eat his knickers for this! —Ed.)
» Each sound environment features different sound effects for stepping vs stomping.
» Supporting background audio sets the mood for each environment
» futuristic blue glow
» Sound banks included:
— Hydraulic Robot (robot walking, crushing things)
— Rainstorm (walking in puddles, splashing in puddles) [The weakest sound set by FAR!]
— Zombie Attack (squishy walk, dragging a dead limb, zombie attack RAWR!)
— Gigantic Monster (city-squishing monster walk, crushing buildings)
— Gunslinger (walking with boots & spurs, shotgun pump & fire)
— Medieval Knight (walking in plate armor, swords clanging)
— Pegleg Pirate (every other foot is your peg leg!, pistol firing, swords clanging)
— 8-Bit Gaming Hero (video game walk, coin collecting, pew pew!)
— Steampunk Giant Robot (hydraulic robot walking, steam, crushing things)
» Retro Style LED Sound Bank Indicator
» Main box and mini box glow with embedded LEDs
» Batteries: 4 AAA (not included)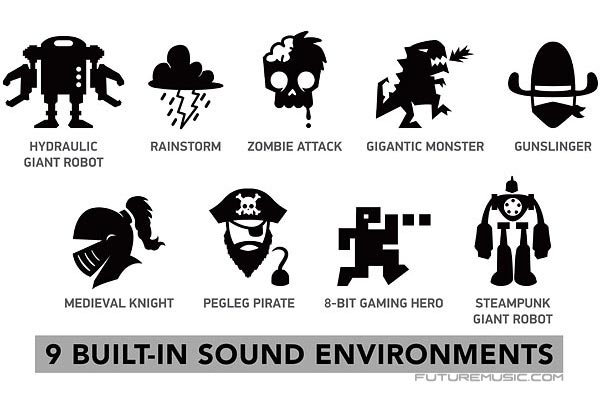 So why does Think Geek call this an Audio Reality Costume? Traditional costumes are a disguise based upon VISUAL appearance. In a traditional costume you take the way you look regularly and cover it up with clothing, masks and makeup. The Mega Stomp Panic creates a costume using SOUND only. The sounds from the Mega Stomp are synchronized to your steps and stomps, giving the illusion that you are generating them yourself. How does it work? Using a solid state accelerometer, the Mega Stomp senses the vertical movement of your body every time you take a step. If your body moves more, it assumes you have stomped.
Think Geek's Mega Stomp Panic costs $40 and is available now.
The Future: The ability to input your own samples PLEASE!!
ThinkGeek