VOX Announces Amphones – Headphones Featuring Built-in Guitar Amplifier
Although this could just be some serious marketing snake-oil, we just got word that Vox Amplification has announced Ampphones, new guitar-oriented headphones that feature a built-in guitar amp. These battery-powered headphones feature a built-in VOX Amplug guitar or bass amplifier, and can also be used as conventional headphones. Hmmm…coincidence? Or did Vox see the market penetration and popularity that Marshall had with their own cans and wanted in on that action?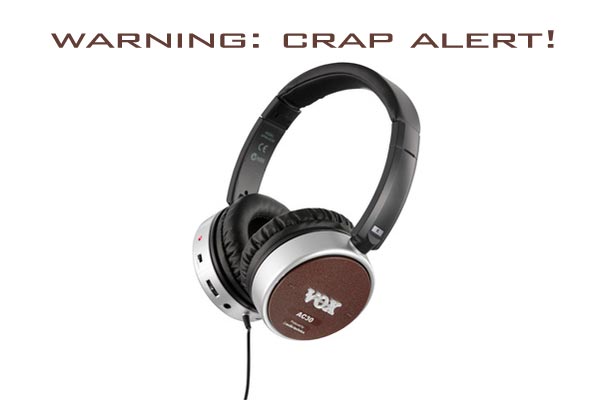 Four Amphones Models:
» "AC30" is a model of VOX's AC30 amplifier
» "Twin" simulates the sound of a famous US-made clean guitar amp
» "Lead" covers lead guitar sounds ranging from UK-made amps to US-made high-gain boutique amps
» "Bass" models VOX's AC100 bass amp
Vox implemented numerous built-in effects to add variety and dynamics to the sound. The AC30, Twin, and Lead versions provide reverb/chorus & delay, while the Bass version provides a compressor. Each effect is adjustable, and provides high-quality sound and presence.
Each Amphones version functions as a conventional set of headphones when there is no instrument connected. The headphones themselves are made by Audio-Technica (ahhh, here we go…marketing it is! —Ed.), a trusted name in headphone technology for 50 years. Vox claims that the Amphones provide professional sound quality and a comfortable fit – from the looks of the build-quality, we doubt it. The folding design provides portability, and an extension cable and adaptor plug is also included.
The VOX Amphones will be available next month for somewhere around $100 bills.
The Future: Consumers will pass. Audio-Technica will request that their name be removed from all marketing materials.
Vox