Portmanteau Devices Unveils Pianocade – 8bit Hardware Synth
Portmanteau Devices has released the Pianocade, an 8bit synth in a cheeky, 80's arcade chassis.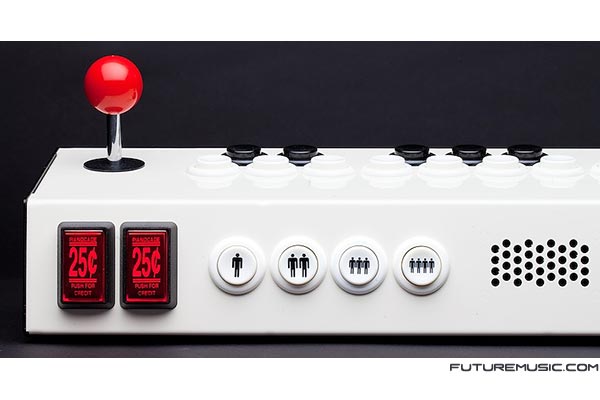 The Pianocade's built-in synthesizer is based on the sound hardware of the Nintendo NES and Game Boy (specifically, one of the square wave channels: it's a monophonic square-wave synthesis engine with a 4-bit digital-to-analogue converter). Because it's monophonic, it does what many early games did in lieu of chords: it cycles through the notes of the chord rapidly (arpeggiation).
Using a simple programming language users can customize the Pianocade's 15 sound banks over USB or MIDI. As the sound plays users can modify the sound's volume, pitch, and duty cycle, plus add on-release effects and modify parameters based on MIDI input (such as note velocity or aftertouch). Arpeggio order and speed can also be set individually for each sound.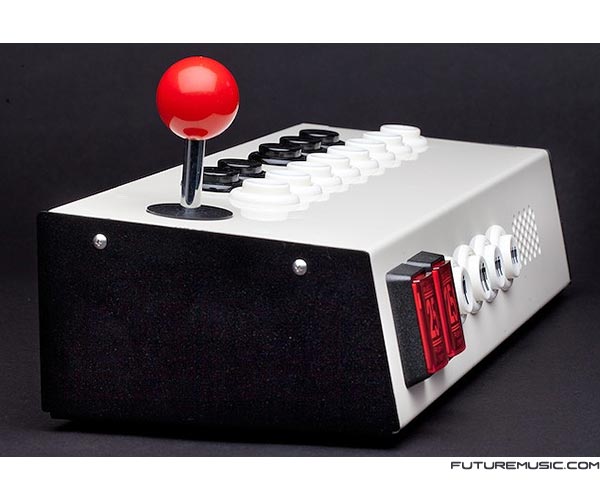 Features:
» 128-note range — over 10 octaves!
» Can mimic most sounds of the NES, Game Boy, and early arcade games
» 15 sound banks, user-programmable over USB or MIDI
» Chords are auto-arpeggiated, with per-sound programmable speed and order
» Five arpeggiation orders: Asccending, descending, ping-pong, order played, and random
» Transpose the keyboard to play in any key
» MIDI In, Out, and Through, plus experimental USB MIDI in and out
» Integrate MIDI velocity and aftertouch into sound banks for amazing effects
» Synchronize the arpeggiator to external MIDI clock signals, with adjustable tempo
» Add "extra" controls via pitch and CC messages
» Reprogram the MIDI message sent by each control
The Pianocade has traditional 5-pin MIDI ports (in, out, and through) as well as USB MIDI. Use the Pianocade to control any device with MIDI in (realistic instrument patches sound great with the arpeggiated chords!), or control the Pianocade via an external controller or sequencer. The Piancade's arpeggiator automatically syncs with incoming MIDI clock signals too! Reprogram the MIDI messages of the joystick, coin buttons, and player buttons for a totally custom MIDI controller.
Technical specifications:
Electronics
» Powered by an Atmel AT90USB646e
» Monophonic square-wave synth with 4 bit digital-to-analogue converter
» All microcontroller pins broken out on PCB
Inputs and outputs
» MIDI In, Out, and Through
» USB MIDI (experimental)
» 5 watt internal speaker
» 1/4″ Amplified headphone out
» 1/4″ Line out
» Power via DC adapter or USB (automatically selected)
Enclosure
» Authentic arcade buttons and joystick
» Beautiful custom enclosure in powder-coated aluminum, designed by Andrew Kilpatrick
» By popular demand: strap mounts, so you can use it as a keytar!
» Dimensions:
— One octave: 15.3″ x 6.3″ x 3.6″ (38.8cm x 16cm x 9.1cm)
— Two octave: 24.9″ x 6.3″ x 3.6″ (63.2cm x 16cm x 9.1cm)
Customization
All of Portmanteau's hardware, firmware, and software is completely open source, and will be released when the products shipped. Anyone is free to hack a Pianocade or build one from scratch. The circuit board is designed to facilitate hacking: all of the pins of the PCB are broken out and labelled for easy access. An electronics-only option is also available for people who are more interested in tinkering than in a ready-to-play product.




The Pianocade's synthesizer is incredibly flexible. It's easy to create awesome sounds and to share them online. All of the button and joystick settings can also be changed to create your dream MIDI controller. Because the Pianocade is completely open source. Want to modify the circuit board? Create custom firmware? Have at it! We've tried to make it easy by breaking out all of the microcontroller pins on the PCB. If that sort of thing interests you, then you can buy the electronics on their own, without the case or buttons. Share your mods with other Pianocade owners too! The Pianocade case is a blank canvas waiting for your personal touch. We start you off with some awesome logo stickers, but feel free to go wild. Want to design your own button overlays or side art? We'll give you the templates. In the future we hope to offer some awesome "artist edition" inserts you can use too!
Portmanteau Devices Pianocade is available for pre-order at the following prices: One octave: $250CDN; Two octaves: $325CDN; Electronics only (kit): $100CDN. No delivery date has been announced.
Portmanteau Devices