Apogee Announces Quartet – Mac Desktop Audio Interface
Apogee Electronics has announced Quartet, a desktop audio interface and control center for the Mac platform that features four-inputs, eight outputs, MIDI, top panel display and control.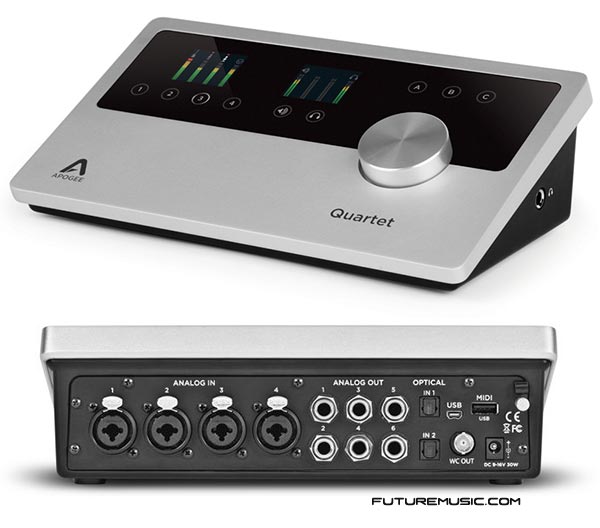 With ample input and output connections, the signature single controller knob, QuickTouch pads, and Apogee's conversion technology, Quartet connects to any Mac via USB 2.0 high-speed for low-latency performance and a 44.1 to 192kHz sample rate. Quartet's four combination inputs offer microphone, instrument and line input with an gain range of up to 75 dB, leaving some headroom for demanding microphones and sound sources. For additional channels, Quartet's eight digital inputs create the option of connecting an external interface, like the Apogee Ensemble.
Quartet's six balanced outputs deliver options for the video producer to mix in surround, the live performer to send multiple mixes to monitors and front-of-house and the mixer to send a mix to outboard compressors and EQs. Using Apogee's Maestro software, the outputs will also split into three stereo pairs for connecting three speaker sets for auditioning mixes across various types of studio monitors. Quartet includes a USB MIDI connection for connecting a keyboard, synth or DJ controller. This feature consolidates all gear connections away from the Mac, making Quartet the control center for any studio.
Features:
» Apogee AD/DA converters /24 bit/192kHz
» Monitor control – up to 3 speaker sets
» USB 2.0 High-speed Mac audio interface
» ADAT/SMUX digital inputs
» MIDI input (USB-A type connector – NOT True MIDI in/out/thru)
» 2 top panel high-resolution OLED displays
» Controller knob
» 6 touchpads for direct selection of inputs and outputs
» Quartet works with any Core Audio compatible application including: Logic, Pro Tools 9 and 10, Final Cut, Ableton Live
» 4 Analog Inputs: Combination line (balanced +20dBu max), Mic/Instrument (+20dBu/+14dBu max)
» 4 Microphone preamps with up to 75dB of gain
» 8 Digital Inputs: ADAT/SMUX Input, 2 Toslink connectors, 44.1kHz to 96kHz
» 8 Analog Outputs: 6 Balanced line outputs, +20 dBu maximum output level, 1 Independent 1/4" stereo headphone output
» MIDI I/O (USB-A type connector)
» Word clock output
» USB 2.0 High-speed Mac audio interface
» 3 assignable touchpads to control: Mute Outputs, Dim Outputs, Sum to Mono, Clear Meters, Engage Speaker Set (allows monitoring of up to 3 pairs of speakers)
Apogee's Quartet is over priced at $1,295 / €1,295 and will be available sometime this month.
Apogee