TestDrive: Maag Audio EQ4 Review
The Plugin Alliance in partnership with Cliff Maag Sr. has developed the Maag Audio EQ4, a new sound shaper plug-in for Mac and PC. The EQ4 models Maag's 500 series module of the same name and contains five fixed equalizer bands, plus Maag's famed Air Band. Five reviewers put the EQ4 through its paces, their impressions are below in quotes.



Not a lot of thought went into translating the hardware interface into the virtual realm


Although the EQ4 is dubbed an equalizer, it's more accurate to say that it's a sound sculpting tool, than a true EQ. Designed primarily for vocals, the EQ4 features five fixed EQ Bands: The Sub and 40 Hz are provided to contour the low end and work well, but "Bass Bin aficionados will most likely rely on alternative tools to dial in the low end." Next up is the 160 Hz band, to focus in on the upper low-end, followed by the 650 Hz for low-mid action and finally the 2.5 kHz midrange arena. The virtual knobs are notched, which some of our reviewers liked for "mental recalls," but others thought the "jumps were too big," preventing subtle tweaks.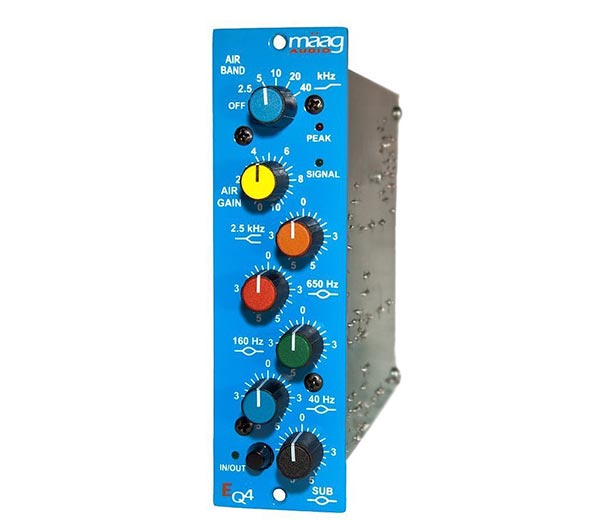 The 500 Series hardware version of the Maag EQ4


Maag EQ4 Controls:
» AIR BAND
— Boost only shelf at 2.5 kHz, 5 kHz, 10 kHz, 20 kHz, or 40 kHz. The frequencies below the shelf peaks are also affected due to the transitional slope.
» AIR GAIN
— Gain control for the AIR BAND (+15 dB)
» 2.5 kHz
— Fixed boost and cut shelf (+15 dB, -4.5 dB)
» 650 Hz
— Fixed boost and cut bell (+15 dB, -4.5 dB)
» 160 Hz
— Fixed boost and cut bell (+15 dB, -4.5 dB)
» 40 Hz
— Fixed boost and cut bell (+15 dB, -4.5 dB)
» SUB (10 Hz)
— Fixed boost and cut bell (+15 dB, -4.5 dB)
» PEAK
— Red LED starts to illuminate when digital signals clip.
» SIGNAL
— Green LED indicates audio signal presence.
» IN/OUT
— Engages and disengages EQ


Air Band
The final band, or what Maag has trademarked as the Air Band, is the EQ4's "super power" and works wonders to "open up certain flavors in the high-frequency range." Air Band provides a sweepable, boost-only shelf at 2.5kHz, 5kHz,10kHz, 20kHz, or 40kHz and adds "detail, clarity and energy" in the high-end of the spectrum "without ever sounding harsh" or "biting" to the ear. The achilles heel of high-spectrum EQs and filters is that they often overly promote sibilance in the material. Maag, took this into account, and unlike other designers who just accept the fact that this comes with the territory, spent considerable time addressing this challenge.

Interface Plant
A gain control is also provided, but mimics a standard-head screw driven affair and "just doesn't translate well to a plug-in interface." It works as advertised and our users often had to utilize it to step back the output, which can "easily overload" since the EQ4's design sums all the bands together for "a more organic and natural sound."
The other miss is the design of the interface, which all reviewers cited as "flawed" and "clearly not thought out." Although Maag and the Alliance wanted to translate the vibe of the 500 series hardware, "there is so much more they could have done in the software arena."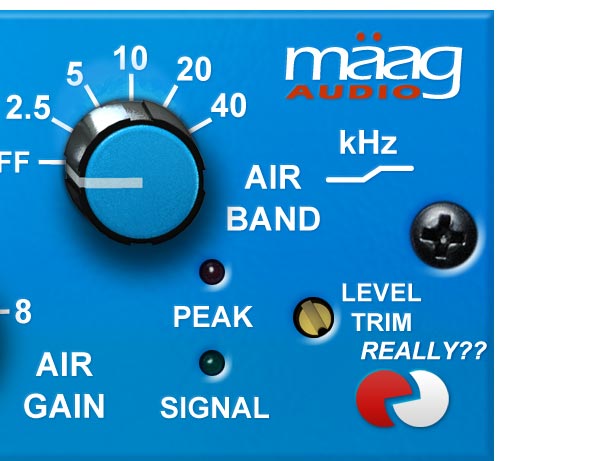 This is the Level Trim on the Maag EQ4 interface. We added the "Really??"


To end on a high note, even with all the sound manipulation features, our reviewers found the Maag EQ4 to be "quite transparent" without residual artifacts found in many EQ plug-ins.
Conclusion
If you're looking for a distinctive tool in your sound sculpting toolbox, the Maag's Air Band feature is certainly worth a demo, but it may be spendy to some for this one attribute.
Worth A Look.

The Future
If Cliff and the PlugIn Alliance go for round two of the EQ4 they should spend more than 10 minutes designing the interface. The "Gain knob is somewhat of a joke" and although they tried to maintain the hardware's design continuity, it misses on every level. Although, Cliff may not want to hear this, all the reviewers clamored for a more modern and sophisticated interface which included metering, visual indication of band adjustments, presets, user memory locations and other plug-in staples.
» FutureMusic Rating: 75%


Cheers:
+ Sound Quality
+ Air Band
+ Transparency

Jeers:
– Gain "Adjustment"
– Interface
– Big Jumps In Notched Knobs
Off The Record:
"I don't know what they were thinking, but that Gain knob is somewhat of a joke." —Garth Fields
"What you're really getting for your hard earned money here is simply the Air Band, everything else is remedial." —Dan Brotman
"It's a shame that Maag didn't put more effort into that 8bit interface." —Greg Geller
"I'm reading Air Band, but I keeping hearing 'Hair Band.' Is this happing to you too? Regardless, this is the EQ4's super power and I found it to work wonders on a wide variety of instruments and vocals." —Nik Kaufman


The Maag EQ4 is available now for $229 via Plugin Alliance.
Maag Audio