iZotope Upgrades Alloy To Version 2
iZotope has upgraded their Alloy virtual channel strip to version 2.0. iZotope's mixing suite that combines six essential tools in one self-contained and configurable plug-in with powerful sound-shaping tools, solid sound quality, and a streamlined workflow.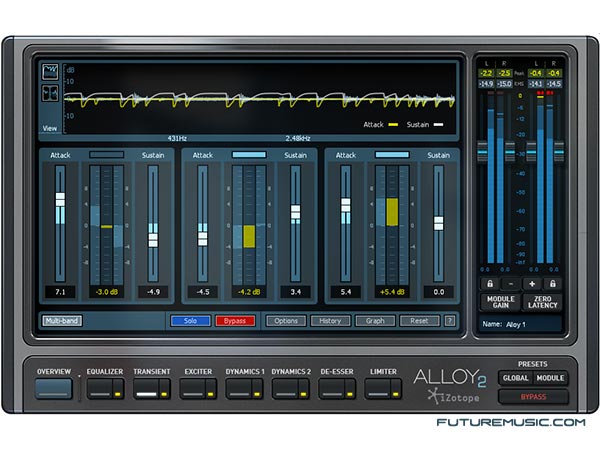 iZotope Alloy 2 Features:
» Equalizer, Dynamics, Exciter, De-Esser, Transient Shaper and Limiter.
» Solid sound quality, balancing vintage emulation with digital precision.
» Claimed zero latency performance, whether you're tracking in real-time or in the midst of a mix session.
» Visualize your mixing decisions with vivid meter displays
» Over 250 presets
» Advanced sound shaping controls
Fans of Alloy 1 will benefit from Alloy's sonic enhancements, highlights of which include a redesigned Exciter module, a revamped multiband Transient Shaper, a host of new EQ filters, including Treble and Bass Baxandall filters, and more. Alloy 2 users will also click less to achieve more thanks to both a fully overhauled user interface, enlarged to make more controls accessible, and a new Overview panel that dynamically adjusts to show only the most relevant settings of the modules in play.
Enhancements:
» Redesigned Interface
» Overview Panel
» 200+ New Presets
» New Module Preset system
» Gain Trace Meters
» Threshold Gain Reduction Meters
» Internal Meter Tap
» AAX Support
» 64-Bit Support – Compatible with both 32-bit and 64-bit hosts in Windows and OS X
» New EQ Filter Types: Baxandall filters, Vintage and Resonant Shelf filters, Flat and Brickwall Pass filters, and a Vintage Bell filter
» New Transient Shaper Technology
» Integrated Gain Meter
» Transient Detection Indicators
» New Exciter Technology
» Refined Saturation Modes
» Adjustable High Shelf filter controls only the wet signal output by the Exciter, allowing for more precise saturation
» Dynamics Detection Filter
» New All Bands mode shows most crucial controls for every band in one convenient view
» More Sidechain Support
» Unlinked Stereo Limiting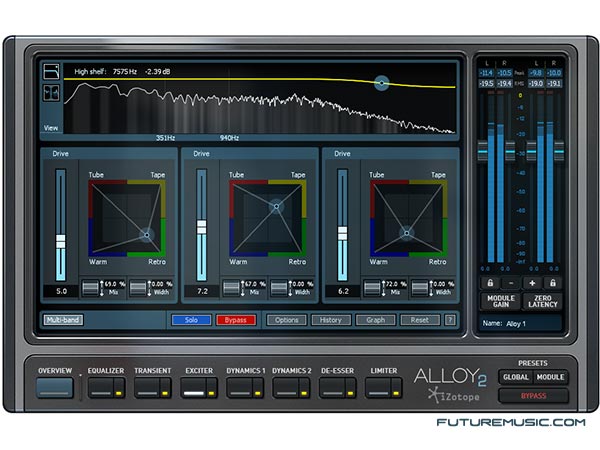 With low CPU usage and zero latency operation, Alloy 2 can be used again and again across a wide range of tracks and buses, making it a nice mixing complement to iZotope's flagship mastering suites, Ozone 5 and Ozone 5 Advanced. To this end, Alloy 2 also features an internal Meter Tap, which provides immediate visual feedback from Alloy 2's tracks and buses in the Ozone 5 Advanced Meter Bridge.



For first time customers, Alloy will be available for $149 until September 6, 2012 after which, Alloy 2's suggested retail price will be $199 / €159.

iZotope