Philips Releases Mini Hi-Fi System 300 W iPhone/iPod DJ Boombox
There's not much information about this Philips disco iPhone/iPod boom box, but it appears to have dual rotating docks for playing and charging your iPod/iPhone – we can't tell if you can manipulate tracks (i.e. scratching) with the platters without the included Algoriddim djay app (Apparently not, they rotate, but that's about it… —Ed.). There does appear to be a crossfader for juggling playback between the two iPods/iPhones on the FWP3200D/05. What Philips does lack in words, it makes up in design…the unit certainly looks pretty sweet.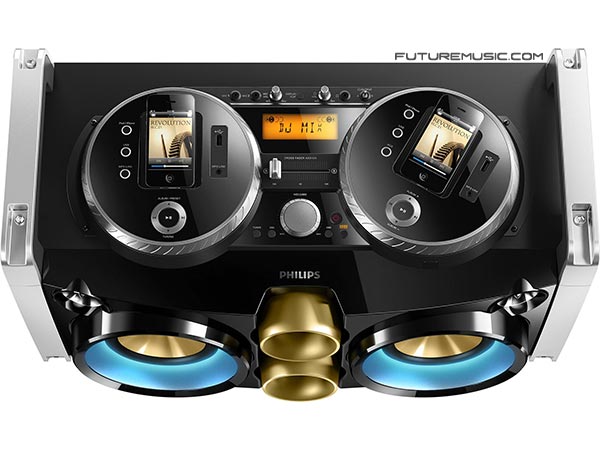 To really kick in the 70's disco vibe, the unit sports "dynamic lighting for dancing to the beat." As the music starts to play the party machine is transformed by dynamic lighting which pulses in time to the beat of the chosen song. With silver and gold finishing touches to the speakers, the Philips DJ-Dock looks like it's ready rock the Total Recall after-party. Users can choose to change the colour of the light to blue, red, purple or an alternating combination, or alternatively turn off the lights completely with the included remote.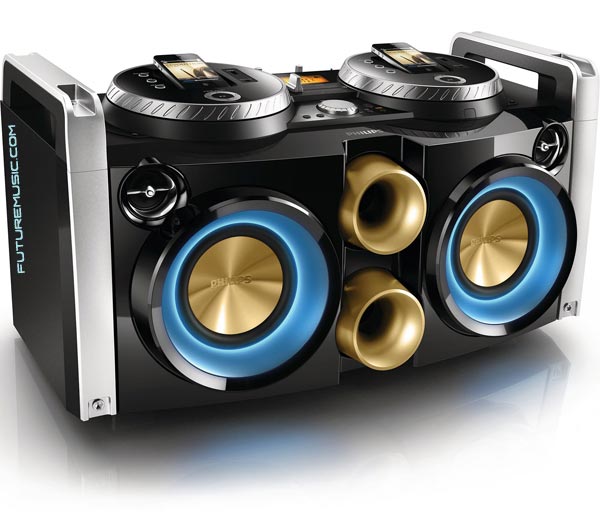 Features:
» Playback media: USB flash drive
» USB Direct playback modes: fast reverse/fast forward, play/pause, previous/next, programme play, repeat, shuffle, stop
» Speaker drivers: 2″ tweeter, 5.25″ woofer
» Sound Enhancement: MAX Sound, Dynamic Bass Boost 3 steps, Digital Sound Control 4 modes
» Total Sound Power (RMS): 300 W
» FM tuner with 20 Station presets
» FM Tuner enhancement: auto digital tuning, auto scan, Easy set (plug and play)
» Connectivity: Headphones: 3.5 mm
» Microphone: dual microphone sockets
» USB: USB host
» MP3 Link: 3.5 mm stereo line in
» Karaoke: MIC volume, echo control
» Display type: LCD display, VFD display
» Remote control: 13-key
» Dimensions: (WxDxH): 704 x 364 x 385 mm
» iPhone compatibility: iPhone 3G, iPhone 3GS, iPhone 4, iPhone 4S
» iPod compatibility: iPod classic, iPod mini, iPod nano, iPod shuffle, iPod touch 2nd generation, iPod touch 3rd generation, iPod touch 4th generation
» Power supply: 100 – 240 V AC, 50/60 Hz
Want to really crank it up? The matching, easy to connect extra FWP1000 speaker kits bring the party sounds and lights to any extra room in the house or can even give more power to the main room. The speaker kits add another 240W of music power and the same multicolour lighting system can be daisy-chained to the main unit so the whole house or even the whole street can join the party spirit
The Philips FWP3200D DJ-Dock is available now for £299; The Philips FWP1000 extender speaker is also available for £199.
Philips