TestDrive: ioSafe SOLO G3 & Rugged Portable SSD
ioSafe, a relatively new storage concern, has entered the field as a more consumer-ready competitor of Glyph Technologies. While ioSafe doesn't reach the same data-recovery warranty high-water-mark as Glyph, it aims to provide more preventative measures by enclosing their drives in robust, fire- and water-resistant enclosures.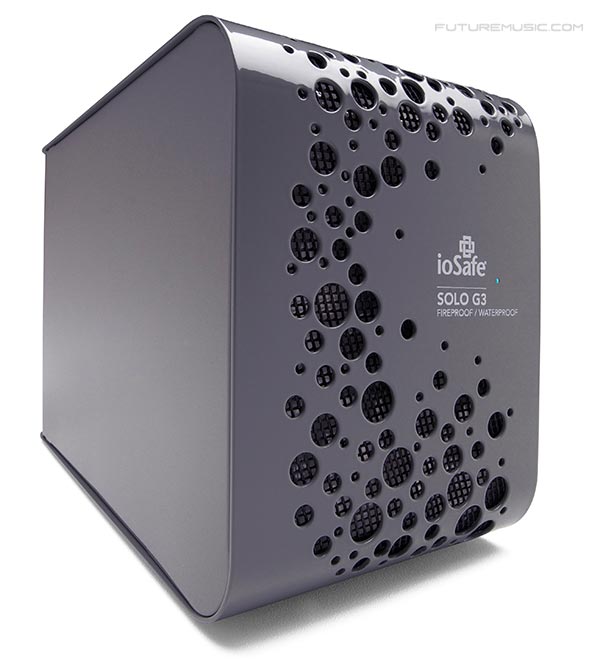 Looking like an alien bee hive and weighing as much as your car, the SOLO G3 should only be moved once


We tested two of their drives, the SOLO G3 and the Rugged Portable SSD. The SOLO G3 was evaluated in the studio environment by three testers, their comments in quotes below. The SOLO G3 is a good choice for a production studio with a fan-less design that enables the unit to "live" in the same rooms as your recording kit, which is how most home or project studios are setup. "The only way I could tell that the G3 was working was by the minor crunching sound the drive would emit," cited one reviewer. The noise reduction is aided by a very large enclosure by today's standards, "which you may need a forklift to maneuver into position."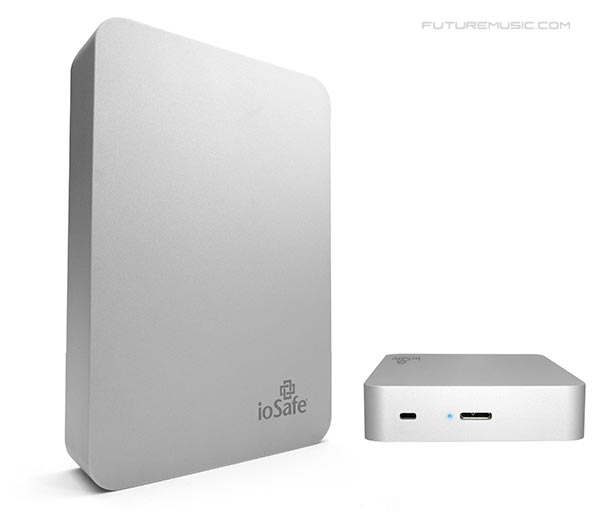 The elegant ioSafe Rugged Portable SSD


SOLO G3 Features:
» RPM: 7200 rpm
» Capacity: 1TB – 3TB
» Fireproof: Protects data from loss up to 1550°F for 30mins
» Waterproof – Protects data from loss up to 10ft for 72 hours Data
» Recovery Service: 1 year standard. 3 & 5 year extension plans available
» Fanless Cooling
» Kensington Lock Slot
» USB 3.0 – Backwards Compatible to USB 2.0
» Data Transfer Rate: USB 3.0 Data transfer up to 5Gb/s (your mileage may vary)
» Mac and PC Compatible
» Dimensions: Size: 5.0″W x 7.1″H x 11.0″
» Weight: 15 lbs
» Form Factor: 3.5″
» Voltage Required: 80 ~ 264 VAC at 50/60 HZ


On The Road
The Rugged Portable SSD was immediately sent packing, The drive was added to the rig of a DJ on a month-long tour of Asia, who utilizes Traktor running on an Alienware M11x laptop. Although touring DJs are very resistant to utilize an external drive when performing due to "unscheduled dismounts," the drive replaced one of the DJ's backup drives and "had to be used on more than one occasion" when one drive failed due to being "dowsed with a frosty beverage" and the backup's backup wouldn't boot. The Rugged Portable was then pressed into service as the main backup and impressed our touring pro with the speedy combo of USB 3.0 and SSD."Data dumps took a fraction of the time with the ioSafe."
Rugged Portable SSD Features:
» Intel Solid-State Drive 320 Series capacities from 120GB-600GB
» Optimized for data loss protection from shock and 20′ drops
» USB 3.0 – Backwards Compatible to USB 2.0
» Kensington security slot machined into solid metal outer wall
» Full Metal Jacket Technology – CNC machined enclosure from a solid billet of aluminum (Al) or titanium (Ti) alloy
» Crush resistant to up to 5000 lbs (Ti version) and 2500 lbs (Al version)
» Full Suspension Drive Technology – Full suspension in all six axes of motion
» HydroSafe Technology – Waterproofresistant protection against data loss up to 10′ for 3 days in fresh or salt water (aluminum version); or 30′ for 3 days (titanium version) per IP68. Protects data even when USB plug is in. No requirement for a connector cap to retain data protection.
» ChemSafe Technology – Full immersion in diesel fuel, oils, hydraulic ?uids, aircraft fuels, 12" depth for 1 hour with no data loss per MIL-STD-810G Method 504
» EnviroSafe Technology – Continuous exposure to UV, blowing sand, blowing dust, rain, salt fog, icing or freezing rain, 24 hours with no data loss per MIL-STD-810G Methods 505.4, 506.4, 509.4 and 510.
» AltiSafe Technology – High altitude operation. 15K ft. (Alum.) and 30K ft. (SSD and Ti.) rated altitudes per MIL-STD-810G Method 500.4
» Mac and PC Compatible

Betamax Size and Performance
Aside from the "betamax" size of the SOLO G3, our reviewers came away impressed with its performance. "I used the ioSafe SOLO G3 exclusively for daily backups and never once experienced an unscheduled dismount or data integrity problem," reported one studio owner. "Although, I still backed up with my long-standing drives, the SOLO G3's additional fire and water protection, as well as the data recovery feature will most likely have me purchasing an ioSafe drive in the near future."
The Rugged Portable came back to our Sound Lab just in time for us to test it with the new MacBook's with USB 3.0. Getting to work on the new MacBook Pro took a little finagling and needed a SMC Reset, but once it was dialed in, the performance was solid. Not only is it a nice addition to the Pro, but the ioSafe's sleek aluminum enclosure complimented the design aesthetic with one staffer stating aloud that "it could be an Apple product."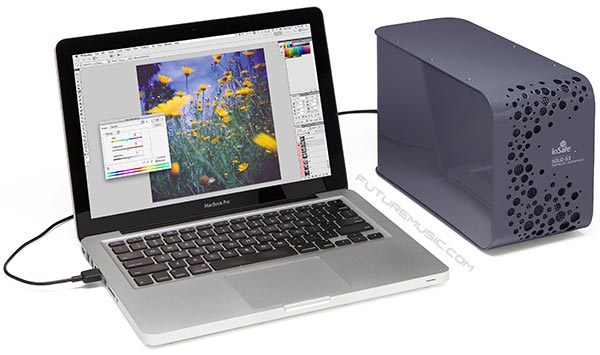 The SOLO G3 is B-I-G, Big! Here it dwarfs a MacBook Pro...


As a further testament to the performance of the ioSafe external's, we placed each drive outside our Sound Lab in the baking hot sun (98% humidity / 96° F) and ran the drives continuously for 4 hours. Despite the fact that one of our editors stated: "The G3 is going to be pissed!" – the drive handled the abuse and continued to perform as advertised. We never achieved the proclaimed 5Gb/s throughput of the USB 3.0 spec, but it was compatible with other high-performance drives in our arsenal. Notwithstanding the performance of the ioSafe storage solutions, we did have a couple of staffers who were "more comfortable with Glyph's 3 year warranty and long-term reputation." However, ioSafe does provide 3 and 5 year data recovery options for an additional $200 to $400 respectfully.
Conclusion
If you're looking for a robust storage solution, ioSafe is now a valid market consideration. With a plethora of options, USB 3.0 I/O and a wider selection of water/fire/crush resistant SSD models to choose from, ioSafe makes a strong case for not only your studio rig, but also when venturing out of town.
Highly Recommended.

The Future
ioSafe should strongly consider upping their included data recovery warranty from one to three years. This would instantly put it on par with Glyph and tip the scales in its favor with the fire/water resistant enclosures. The company also should rebrand the 'Rugged Portable' with a more snappy and marketable model name. 'Rugged Portable' certainly doesn't do the sleek, modern aesthetic justice and sounds more like a description, rather than a catchy moniker.
» FutureMusic Rating: 90%


Cheers:
+ Value
+ Performance
+ Fire/Water/Crush Resistance
+ Durability
+ Design

Jeers:
– Rugged Portable Name
– Only 1 year Standard Warranty
Off The Record:
"15 lbs. for a hard drive in 2012? You better make sure your health insurance is paid up before lifting this puppy." —Garth Fields
"The only flaw I found with the Rugged Portable was with the name." —Dan Brotman
"There's probably many of you wondering about the water protection, but remember, more often than not, the most damage is caused by the fire department putting it out." —Tim Lauren
"Great protection, solid performance, good warranty…" —Greg Geller
"The Betamax size and weight of the SOLO G3 is daunting, but I loved the quiet operation." —Nik Kaufman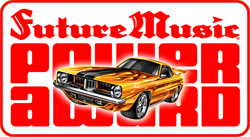 The ioSafe SOLO G3 and Rugged Portable are available now.
ioSafe