Sugar-Bytes Updates Turnado Multi-Effects To Version 1.5
Turnado is a multi-effect tool from the mad scientists at Sugar-Bytes. Crafted especially for massive real-time audio manipulation, Turnado combines unique and dynamic effects with immediate control. Now the whirlwind just got better with the Turnado 1.5 update.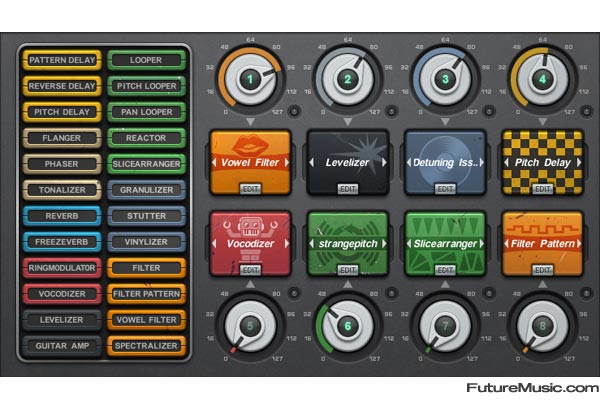 In the studio, simply dial in your effect from a selection of 24 quality algorithms, then quickly add dynamic variation to your arrangements. The idea is simple: Turn a knob and the effect is on. Turn the knob further to adjust effect parameters and apply modulations. Turn the knob down and the effect is off.
Enhancements:
» AAX Support for ProTools
» Gain control
» New filter modes for Pitch Delay
» New 'Beardyman' Filterpattern mode
» New Filterpattern Sweep Range option
» New Pitch Delay input options
» Multi Mode Filter added to Reverb
» New LFO Speed Multiplier
» New LFO host sync option
» Tonalizer scales added
» Tonalizer rootnote option added
» New Guitar amp limiter
» Pan modes in Spectralizer
» New Sync options for several FX
» MIDI out option
Unlocking the power of your MIDI controller each effect requires only one knob to control it. Underneath this simplicity lies a matrix of effect parameters and modulation engines, all controlled by the main knob. This control matrix provides serious depth to the plugin and gives you the ability to create original and truly unique effect programs.




Dictator mode allows you to animate all the main knobs and run that animation with just one fader. That's one fader, controlling up to 8 different effects, with potentially hundreds of parameter changes! Turnado's primary focus is on beat manipulation, so you will find lots of loopers, slicers and grain tools in the rack. Alongside these beat-mashing effects are an arsenal of distortions and filters as well as first-class delays and reverbs. With extensive modulation possibilities each effect can produce millions of unbelievable variations that can be morphed and twisted into something new every time you tweak those knobs.
Sugar-Bytes' Turnado 1.5 is available now for Mac/PC as Standalone application and/or a VST/AU/RTAS plug-in for only €99.
Sugar-Bytes