Aphex Announces HeadPod 4 – Portable Headphone Amplifier
Aphex has announced HeadPod 4, a compact, portable headphone amplifier capable of driving four separate stereo outputs with individual level controls from the selected input source. HeadPod 4 combines four independent Aphex stereo amplifiers and high quality converters in a rugged metal case and offers ultra low distortion and wide frequency response with headroom to spare.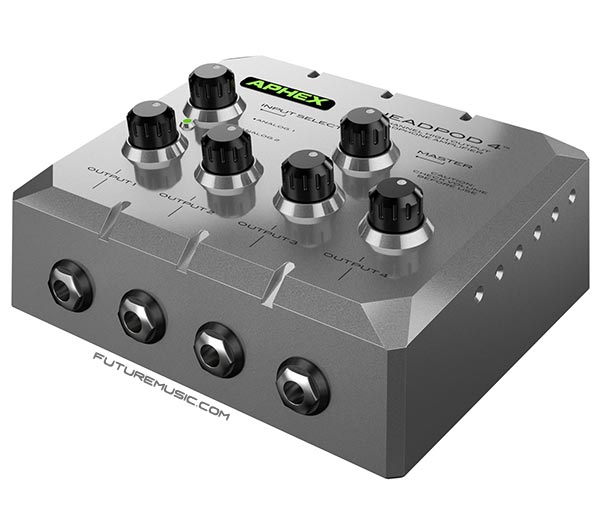 Headphone amp designs built on a single channel of amplification suffer from degraded sound quality and volume levels when multiple, mismatched headphone loads are connected. HeadPod 4 overcomes the limitations of typical headphone amps through the use of four completely independent stereo amplifier channels that ensure minimum distortion and crosstalk regardless of the headphone loads connected, resulting in consistent volume levels, crystal clear audio and no clipping.
Features:
» Quality Monitoring for ALL headphone types
» Individual volume controls
» High headroom (no clipping at high headphone levels)
» Durable metal jacks
» Ultra low distortion & wide frequency response
» Master volume to match source level
» Ultra low crosstalk
» Works from any analog source
» S/PDIF Input
» Top panel input selection
» Listen longer with less fatigue
» Overcomes limitations of typical headphone outputs
» Four independent stereo power amplifiers
Top panel controls include a separate level control for each of the outputs together with a master level control, and an input source selector. The rear of the unit houses a pair of balanced quarter-inch jacks, a single stereo headphone extension input and a digital S/PDIF connection.
HeadPod 4 is suitable for a variety of applications, including desktop audio production, recording and broadcast studios, language labs, quality assurance listening stations, rehearsal and tuition rooms, and live sound venues such as houses of worship and schools.
No pricing or availability has been announced.
Aphex