Urabanears Announce Zinken DJ Headphones
Urbanears has announced the 40mm dual diaphragm driver Zinken DJ Headphones. Urbanears claims the Zinken is "a brand new approach to the concept of a headphone as a musical instrument" — but this is more marketing than reality. However, the Zinken does have two interesting features that set it apart from other DJ cans on the market, TurnCable and the ZoundPlug.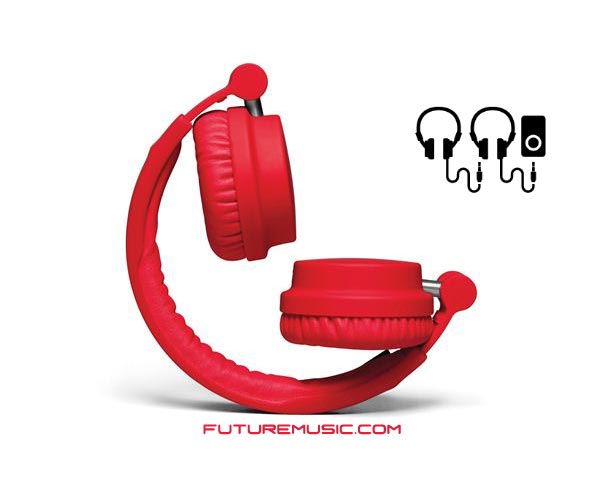 The TurnCable features both a 6.3mm plug for use with a DJ mixer, and a 3.5mm for mobile devices such as cell phones or MP3 players on the same pair of headphones – no adapter needed. The TurnCable also features a coiled section allowing for greater mobility without the cord constantly getting in the way.
The ZoundPlug is not actually a plug, but rather an audio output socket that allows another person to plug in and listen to whatever you are listening to at the same time. Now the Urbanears marketing team missed this as they were cooking up both a fat bowl and the idea that this pair of headphones is actually a musical instrument, but this is a great way for a pro to train an aspiring DJ. Whether learning how to beatmatch (Now an ancient art —Ed.) or how to use eq, effects, in/out points, etc., this is a terrific attribute.
Check out this marketing mumbo/jumbo: "Zinken is designed to be ultra wearable" – Really?? "ultra wearable" as opposed to what? Outfitted with interior thorns? Ridiculous. We can tell you it contains a padded headband and ear cushions that feature increased foam density to assist in outside noise isolation, while the swivel ear cups allow you to monitor with one ear. Urbanears has also chosen to work with materials that do not absorb odors and sweat (By the way, if your body produces rancid head odor, we'd suggest seeing a doctor. Pronto! —Ed.).
Urbanears spoke with a wide-variety of DJs during the testing phase of Zinken. (Like who? —Ed.) Not only were they looking for a headphone that was comfortable to wear, but also confortable to listen to for long periods of time. With this in mind, the Urbanears sound engineers tweaked Zinken's sound so that it would thrive in a DJ environment, but would also excel at day-to-day use. The result is a headphone that claims to produce accurate sound, with slight adjustments to the low and high frequencies for more comfortable listening.
Urbanears' Zinken will be available in a full range of disco colors in the near future for $140.
Urbanears