iZotope Releases Ozone Maximizer For Reason
iZotope has released the Ozone Maximizer Rack Extension for Propellerhead's Reason 6.5. (Well, that was quick… —Ed.) Coming off the heels of today's announcement by Propellerheads about opening up their Rack Extension platform for third party support, iZotope fire the first shot across the bow with the Ozone Maximizer.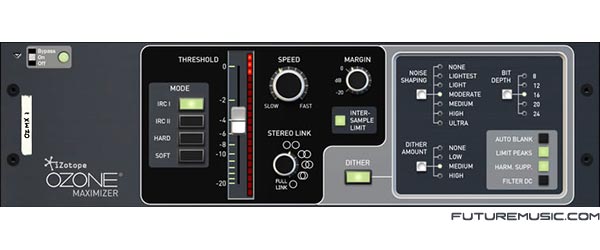 The Ozone Maximizer Rack Extension is a mastering tool that claims to add fullness and polish to music produced in Reason. The original Ozone Maximizer has been used on countless recordings in varied genres like Rock, Hip Hop, Electronic, Classical and more. iZotope has now adapted this acclaimed technology for Reason, extending the Reason Rack with a versatile tool trusted by professional musicians and engineers worldwide.
iZotope redesigned the Ozone Maximizer to perfectly complement the workflow Reason users are familiar with, making it an ideal addition to Reason's Master Section. With iZotope's IRC (Intelligent Release Control) technology, the Ozone Maximizer excels at boosting the overall loudness of a mix without causing distortion or pumping. This Rack Extension also includes iZotope's MBIT+ Dither, letting users preserve the quality of Reason sessions when exporting audio for CD or MP3.
Features:
» 2 Intelligent Release Control (IRC) limiter modes: IRC I and IRC II
» 2 low-latency limiting modes Hard(Brickwall) and Soft
» High-precision threshold control with integrated gain reduction metering
» Speed knob control for adjusting the character of the IRC Limiter from slow and transparent to fast and aggressive
» Variable Stereo Link control for independent limiting of left and right channels
» Inter-sample Limiting to predict when a digital signal might clip in the analog domain, and to automatically prevent these over's
» Margin control for precise control of the output level, helping to dial back peak levels for better encoding to formats like MP3
» iZotope MBIT+ Dither for highest quality results when converting 24-bit Reason sessions to audio files with lower bit depths
iZotope's Ozone Maximizer Rack Extension is available now for $79.
iZotope