MixVibes Set To Unleash CrossDJ App For iPad
MixVibes has released the CrossDJ for Apple's iPad. CrossDJ was developed by the same software team who developed the award-winning Cross, and hopes to capitalize on iPad DJ's who are looking for a more professional take on the art.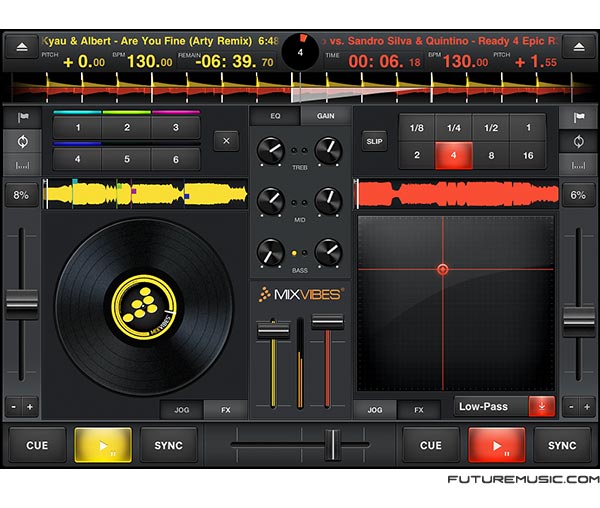 A complete DJing tool, CrossDJ is a fully-fledged DJing controller. It features a full 2-channel mixer with 3-band EQs and Kills, preset Loops, 6 Locators, High-precision audio FX with X/Y control pad and much more. In addition, CrossDJ takes advantage of the iPad/iPhone media management paradigm with fluid, rapid and intuitive browsing and loading. You can easily access all iTunes playlists and browse media using a Dynamic Triple Criteria Filter. The audio stream can be split in order to be able to monitor tracks with headphones, which is essential for a professional mix.
Features:
» Pro Multitouch Controller
» 2 players with 3-band equalizers, frequency kills, gains, 2 volume faders, a crossfader and 2 pitch sliders with adjustable range (4%, 6%, 8%, 16%, 32%, 100%).
» FX Touch Pad and Vinyl Wheel
» 2 deck views: The vinyl record deck allows precise scratching and the possibility to cue a track as you would with a regular turntable. The FX view features a large X/Y control pad allowing you to explore the full extent and potential of the 13 audio FX.
» FX hold feature allows you to lock down an audio effect on a precise setting point.
» Two Loop Modes
— The first mode is the regular loop mode with 8 different lengths of loops varying from 1/8 beat to 16 beats (4bars).
— The second mode is called "slip" mode. Here, loops are active only when a finger is pressed on the loop. While the loop is active the track keeps playing so that when you release the finger the musical flow is not affected.
» Headphone Monitoring: Split Output
The BPM analysis is performed automatically the first time you load a track. Once analyzed, the mix is visually assisted with a sync meter and high definition waveforms. Thanks to the Beatgrid feature, mixes will be synchronized automatically. Edits to the beat grid are doable on-the-fly and saved to the collection.
CrossDJ offers the possibility to monitor the mix with headphones using multiple routing modes. The split routing allows monitoring, which means you are performing a mix in actual professional conditions. The default setting plays music directly through the master stream.




CrossDJ is stocked with a combination of MixVibes Media Management system and Apple's intuitive track search paradigm. Media browsing is made through a multi-criteria filter or directly on the full size iPad keyboard. Hence, loading a new track is done in seconds.
CrossDJ is compatible with most popular audio formats including every iTunes compatible format and many more. A pristine sound quality of CrossDJ will be offered through the headphone plug jack and the USB port.
CrossDJ will be available from the Apple App Store on May 7th for a special launch price or €7.99 (ends June 4th – Regular price: €14.99). An iPhone version is slated to launch this Summer.
MixVibes