Roland Trots Out Jupiter-50 Synth – Updates Jupiter-80 OS To 2.0
Roland has trotted out the Jupiter-50, the little sister to their "flagship" Jupiter-80. Unfortunately, the Jupiter-80 was Dead On Arrival with an exorbitant price tag and an uninspiring sound set. The lackluster sales have taken its toll on the once-formible company with yet another round of layoffs hitting employees in the US office only a couple of months ago.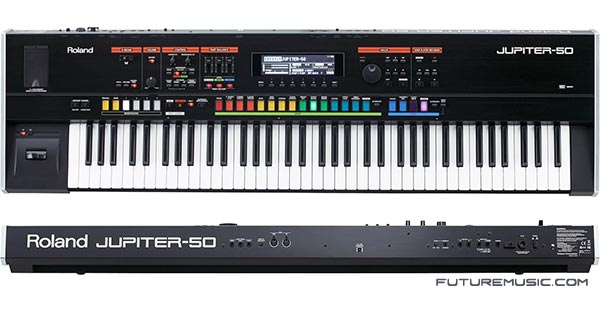 Meant to be a more portable version of the 80, the Jupiter-50 still weighs in at 24 lbs, which is not exactly what we call "travel-friendly" in 2012. It contains the same SuperNATURAL sound engine found in the 80.
Features:
» SuperNATURAL sound engine
» Travel-friendly design; 76-note weighted keyboard – (Maybe if you're "traveling" by barge… —Ed.)
» Fast, friendly user interface with intuitive color-coded buttons and sliders
» Registration function for saving and selecting sounds instantly
» Pro-quality multi-effects and reverb
» Expressive performance controllers, including D BEAM, pitch/mod lever, and control input jacks
» USB Song Player/Recorder
» USB audio/MIDI functionality; bundled with SONAR LE and JUPITER-50 Control Surface plug-in for SONAR
The JUPITER-50 houses over 1500 SuperNATURAL synthesizer tones found in the flagship JUPITER-80, plus all of its SuperNATURAL acoustic sounds (with Behavior Modeling) and many of its Live Sets. In fact, you can conveniently import the JUPITER-80's Live Sets into the JUPITER-50 via USB flash memory (Do you really think people are going to buy both Roland? No one bought the 80… —Ed.). To achieve the same sound quality as the JUPITER-80, the JUPITER-50 employs the identical analog audio components as its big brother, including the high-resolution D/A converter.




For live performers, there's an allotment of essential stage sounds packed into the JUPITER-50, anchored by the SuperNATURAL piano and electric pianos. Authentic organs are included as well, derived from the VK organ sound engine, with a dedicated front-panel button that provides instant access to rotary effects.
For synth lovers, you can choose from over 1,500 SuperNATURAL synthesizer tones and stack four of them to create a powerful Live Set. Classic synth sounds include analog favorites such as the Roland SH and JUPITER brass, plus digital sounds from the D-50, JD-800, and Fantom. Combine them with the SuperNATURAL acoustic instruments to create your own expressive, modern sounds.
Complex sounds don't have to be complicated to program. The JUPITER-50 simplifies the sound-design process with its color-coded front panel, fast-access buttons and sliders, and Registration/Live Set architecture (128 Registrations, 2,560 Live Sets) logically categorized and instantly available.
The JUPITER-50's built-in audio recorder/player lets you capture musical sketches and full performances instantly to USB memory. By pre-loading a USB stick with WAV, AIFF, and/or MP3 files, you can use them as live backing tracks onstage and control them from the JUPITER-50. You can even simultaneously record your performances on the keyboard along with audio file playback from USB.
The JUPITER-50 boasts an advanced effects engine. There are five types of reverb algorithms onboard, plus dozens of other special effects (MFX). You can select from five MFX structures that let you place up to four effects in parallel and/or serial paths; using these structures, you can take full advantage of the JUPITER-50's collection of effects to create your own signature sounds.
Roland also updated the operating system of the JUPITER-80 to version 2.0. With the new software update, the JUPITER-80 offers additional features that claim to provide more flexibility and creativity for musicians designing their own sounds.
Jupiter-80 Version 2.0 Features:
» Adds three types of low-pass filters; combined with the previous type, a total of four filters are now available
» Adds new MFX structures; in addition to the previous parallel connection, a total of five structures (including serial connection) are available
» Adds a Registration Play screen for easier access to sounds during live performance
» Better integration with SONAR software; a dedicated plug-in for your computer lets you easily map the JUPITER-80 to control SONAR's faders and soft synths
No pricing or availability has been announced.
The Future: At this point, you almost have to feel a little sorry for the once formidable Japanese concern. After years of missed business opportunities for savvy acquisitions or developing their own line of soft synths, Roland has lost their mojo. Sure they have plenty of other product lines that are keeping them afloat, but for legions of Roland synth fans, it's obvious their best years are long behind them.
Roland