Mikrosonic SPC – Music Sketchpad App For Android Updated To Version 2.0
Mikrosonic has updated their SPC – Music Sketchpad App for Android to version 2.0. The SPC – Music Sketchpad a production workstation for creating electronic music via synthesis, sampling, sequencing and beat programming on your phone or tablet.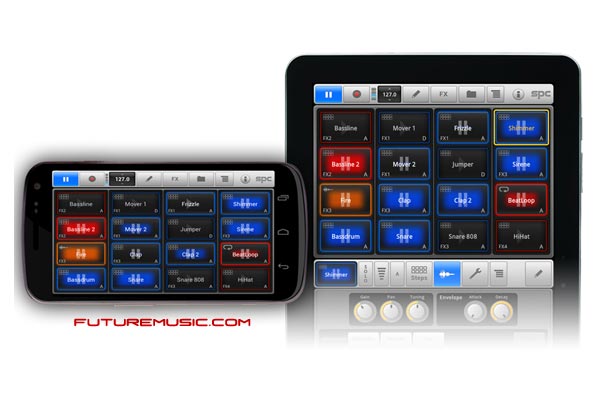 The new version comes with a completely revamped GUI and includes new audio effects: Reverb, Delay, Phaser, Filter and Distortion. Every effect has a X/Y control field to manipulate the main parameters in real-time. The audio engine has been adapted to Android 4.0 (Ice Cream Sandwich).
Features:
» Perform live
— 16-pad screen mixes loops and sequences
— Remix your tracks in real-time
— Record and share your performances
— Use your own sounds or the ones included in the app or download additional scenes
» Program your own beats and grooves
— Full featured drum sampler
— Flexible sequencer
— Step sequencer for each of the 16 pads
— Every step sequencer with up to 64 steps
— Individual velocity/accent settings for each step
— Different step lengths from 1/4 to 1/32
» Scribble your musical ideas
— 16 tracks with up to 4 variations
— Keyboard for melodic composition
— Soundlibrary with one-shot samples
» Record sounds and loops
— Record your voice, instrument or any other sound directly with your device's built-in microphone
— Record one-shot samples with trigger function
— Record loops in sync with quantization and overdub function
— Use the recordings instantly in your performance
» Edit your sounds
— Waveform display
— Gain, pan and tuning knobs
— Envelope control with attack and decay
— Reverse, normalize and cut function
— All actions in real-time and with multi-touch
» Add Effects
— Reverb, delay, phaser, filter and distortion
— Freely assignable to each pad
— Real-time controllable effects
— X-Y control field for the main parameters
— Chaining of effects




Mikrosonic's SPC – Music Sketchpad 2.0 App for Android costs $5 and is available now.
Mikrosonic