IK Multimedia Announces Arrival Of New iOS DJ Rig & iRig MIX Mixer
IK Multimedia has announced that their new DJ iOS mixing App, DJ Rig, is now available. DJ Rig, a multi-featured, double-deck DJ mixing app for iOS devices, provides song-playing from the device's music library, automatic tempo sync and beat match, sample-based pads and performance recording, plus quality DJ effects.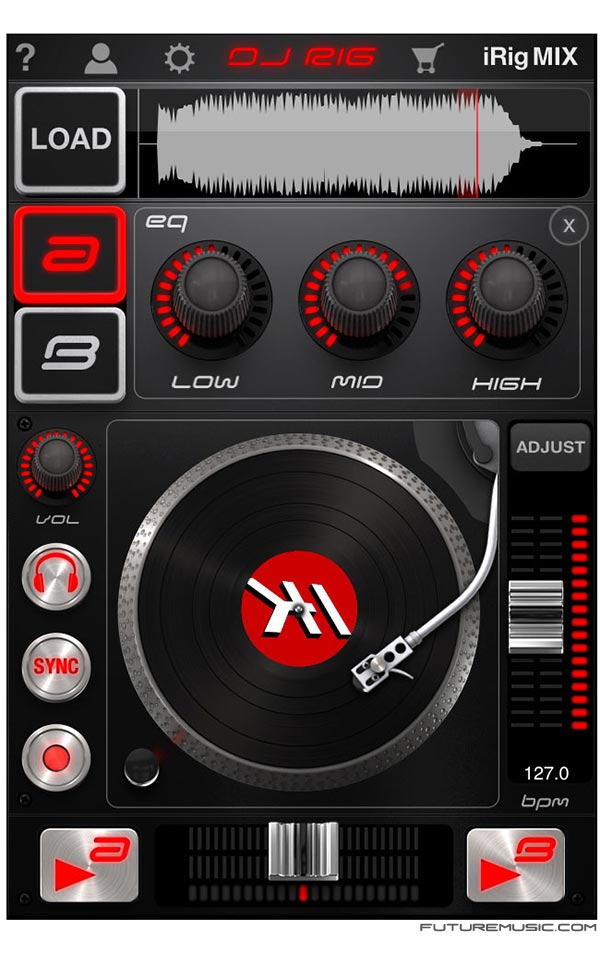 DJ Rig provides instant beatmatching by analyzes your songs and then building a tempo and beat map. DJ Rig also features a real-time effects processing section that allows DJs to apply various effects to their source material. And with the XY touch interface, you can reportedly have full creative control of the effect parameters. DJs can choose from spatial effects like reverb, delay and flanger, various pass-through filter effects, distortion, resonance effects and a new stutter effect. Plus, all effects are automatically synched to the tempo.
DJ Rig also features an on-the-fly sampler that can capture and play sounds from built-in sound banks or for quick sampling of source audio for instant playback and looping. Sounds can be accessed from 9 virtual pads that access a high-quality, expandable sample library. DJ Rig features the new turntable modeling technology called CloneDeck which claims to provide "an ultra-realistic turntable scratching feel and sound." (We doubt that, and IK, like others couldn't resist utilizing the same tired turntable emulation instead of just scratching waveforms. It's 2012. You're DJing on an effing phone. There's no need to have animated turntables anymore… —Ed.)
Record and share your mix by utilizing the built-in recorder and then export it to your computer. DJ Rig also features an exclusive X-Sync function that enables the synchronization of music from ANY source — not just music on the iOS device — when used with the iRig MIX portable iOS DJ mixer. With X-Sync, you can connect and cue ANY audio source, and DJ Rig claims to be able to automatically match the tempo and make seamless transitions.
Features:
» Double Deck
–Landscape and portrait interfaces
–Direct access to iPod library and playlists with instant play
–Deck controls: Volume, Pitch, 3-Band Kill EQ, Headphones and Cross-fader
–Tempo controls for fine BPM adjustments
–3 cross-fader curves for customizing fades
–Drag and zoom of waveform display
–Auto-level detection and adjustment for the perfect balance between decks
–Cross-fade filter for fading between decks with bass or high filters for smooth and perfect transitions
–Customizable deck interface (available for in-app purchase)
–Multiple output configurations for virtually any audio setup
–Supports all major digital audio formats including MP3, AAC, WAV, AIFF
–Live recorder enables you to record full mixing gigs
–Export your mixes via file sharing
» Mix & Scratch
–Tempo Sync
–Beat Match
–Fast BPM detection, beat analysis and beat map saving
–4 visual cue points per song (1 built-in plus 3 available as in app purchase)
–Automatic looping to create loops with beat-accurate tempo divisions
–Accurate scratching engine modeled on real deck behavior with CloneDeck™ technology for scratching with cut-to-the-beat
–X-Sync mode detects the BPM from an external audio sources in real-time and automatically syncs the tempo (when used with iRig MIX)
» DJ Effects
–Effects deck with 12 effects: Delay, Flanger, Crush, Filter High Pass, Filter Low Pass, Filter Band Pass, Compressor, Wah, Phaser, Fuzz, Reverb, Stutter (6 built-in plus 6 available for in-app purchase)
–XY touch interface
–All effects are BPM-synched
–Multiple controls
–Extra filter available
» Sampler Machine
–On-the-fly sampler machine
–9 pads matrix with assignable pads on 4 instantaneous sound banks
–15 sound banks available (8 built-in plus 7 available for in-app purchase)
–Live sampling functionality
–Pitch control
DJ Rig includes six DJ effects (Low pass, Band pass, High pass, Delay, Stutter, Phaser), and 8 built-in sound banks plus one adjustable cue point. These can be expanded with 6 more effects (Flanger, Comp, Fuzz, Reverb, Auto Wah, Crash), 7 extra sound banks, 3 more cue points plus digital deck interface, all available together through in-app purchase in the Pro bundle pack.
IK's DJ Rig app is already available on the iTunes App Store at the special introductory price of only $1.99 / €1.59 for a limited time. The Pro Bundle add-on expansion is available for only $4.99 / €3.99 as an in-app purchase. The Sesame Street iRig MIX controller will set your little sister back $99.99 / €74.99.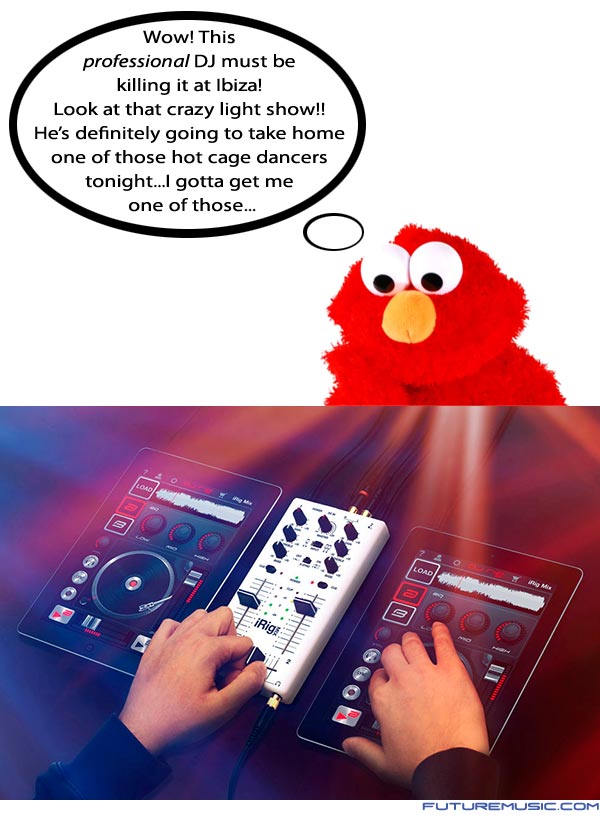 The Future: Not impressed with this iOS offering from IK. Their promotional copy really stretches the truth in several areas including stating that DJ Rig is the only iOS App with the ability to beatmatch. Hello??! Have you heard of DJAY? Been around for far longer than this product. Also, all the fanfare about this being "professional" – Girl PLEASE! – No professional is rocking the house with this Mickey Mouse getup, especially with that butt-ugly iRig MIX. Fer chrissakes, your company is from Italy. ITALY! The home of Ferrari, Lamborghini, Ducati, Giorgio Armani, Salvatore Ferragamo, Fendi and so on…and this is the best you can come up with? Paging Massimo Tamburini… Massimo Tamburini please report to IK Multimedia's offices immediately… You've got work to do!!
IK Multimedia