Brazil's Dance Music Scene Is Economic Powerhouse
According to a study commissioned by the organizers of the Rio Music Conference, Brazil tallied $515 million in receipts for electronic music events in 2011, up 56.64% from the previous year. The study also shows that the electronic music segment in Brazil reached an audience of 19.5 million people last year, who spent another $626 million on accommodation, food, transportation and other items. Sponsorship was also up to $270 million, an increase of 60% compared to 2010.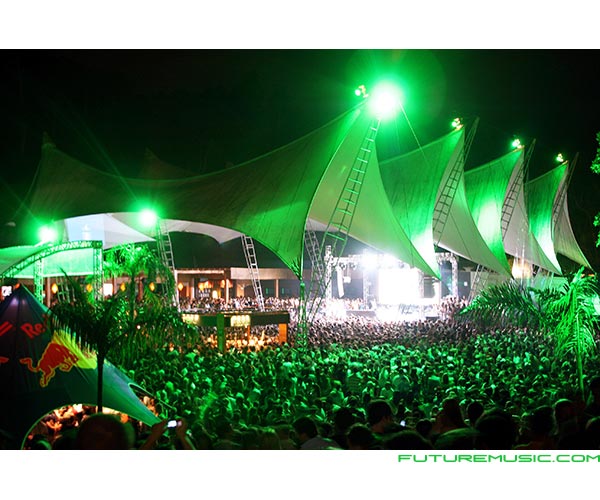 International DJs such as Sven Vath, Erick Morillo, David Guetta, Ferry Corstern, Fatboy Slim, Bob Sinclair, DJ Endo, Armin van Buuren, The Prodigy, Kaskade and Nalaya, all of whom have performed there recently, commanding fees of up to $100,000 per gig. In total, the collective sum paid to DJs who performed in Brazil in 2011 was $57.2 million, 79.9% more than 2010.
It's The Economy, Stupid!
Thanks to Brazil's fast burning economy and exploding middle class, not to mention a zest for late-night liberations and a love of dancing, Brazil's young, single 24-36 year old segment is finding its groove in the club scene. David Guetta tickets for a recent Sao Paulo concert were going for up to 600 beans per and sold out in hours.
Balneario Camboriu, Brazil's answer to Miami, is a rocking summer resort that hosts more than one million Brazilian and foreign tourists every year. The city, which is located in the state of Santa Catarina, is the home of the two best clubs in Brazil, The Green Valley Club and Warung. Recent data claims that Green Valley grosses up to $1.6 million per night. The Ibiza-based Pacha Group is contemplating opening an outpost there in time for the World Cup.