Weekend Fun: 2.74 lbs. Mountain Bike Frame
Delta 7 has manufactured the first high performance lightweight mountain bike frame featuring the patented IsoTruss carbon fiber and Kevlar spider web-like open lattice tube design. The high performance hardtail bike frame is handcrafted in the United States and weighs only 2.74 pounds. The Arantix is an extreme hardtail mountain bike with an unparalleled strength-to-weight ratio resulting in an ultra stiff and responsive bike.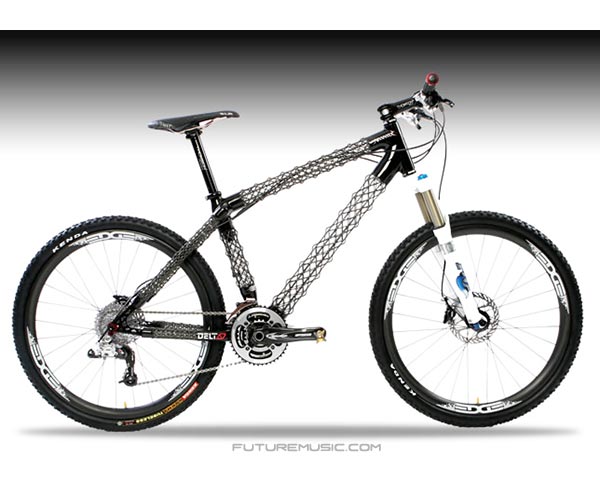 Delta 7 high performance bikes are made of superior high-grade aerospace carbon fiber that is significantly stronger than other common products. The patented open lattice, spider-web bike design leverages greater efficiency from the IsoTruss carbon fiber's strength by concentrating material at proper reinforcement intervals and eliminating excess material. The unique bike design makes it one of the most efficient bikes ever on the market.
The Delta 7 Ascend road bike frame weighs only 1.9 pounds while the Arantix mountain bike frame weighs a mere 2.74 pounds. Both ultra-light bike frames withstand the same high loads as other carbon fiber bike frames with fewer fibers, giving the rider more efficiency and superior strength. Standard bike stiffness & deflection testing shows the Delta 7 Arantix and Ascend bikes are more similar to high grade aluminum alloys. The unique bike design and geometry provide increased response, handling, and transfer of pedaling force. Redundant lattice structure makes the Arantix and Ascend bikes even stronger during impact and crash scenarios by isolating damage without compromising the whole frame.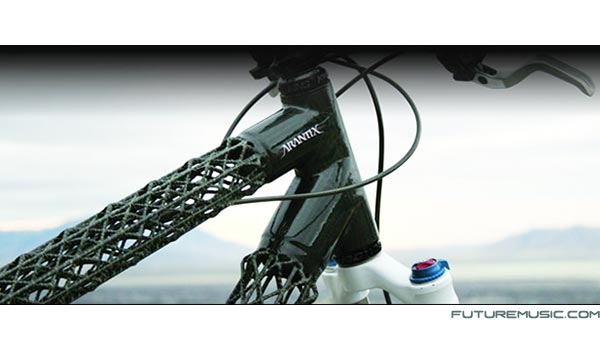 Redundant lattice geometry of the Arantix hardtail mountain bike allows for direction specific design. This high performance bike frame may be customized with more fibers on the side for improved lateral stiffness as well as fewer fibers on top/bottom for greater vertical compliance, opening up a world of ride tuning possibilities. The Delta 7 Arantix is an extreme performance handcrafted composite mountain bike frame produced in a limited production run. The Delta 7 Ascend road bike blends a lightweight frame design and extreme stiffness to make one of the most responsive and fastest road bikes available today. Using the unique patented IsoTruss carbon fiber technology, Delta 7 bike frames are unparalleled in efficiency, weight, and strength. Simply put, there is no other bike like it on the planet.
Delta 7