TestDrive: Review Of The Recording Engineer's Handbook, 2nd Edition By Bobby Owsinski
Bobby Owsinski's The Recording Engineer's Handbook, 2nd Edition is just one of the many titles that the noted mixing and recording engineer has served up over the last several years. Other titles include The Mixing Engineer's Handbook, The Mastering Engineer's Handbook, The Music Producer's Handbook, Mixing and Mastering with IK Multimedia T-RackS, as well as several other guides and tutorials.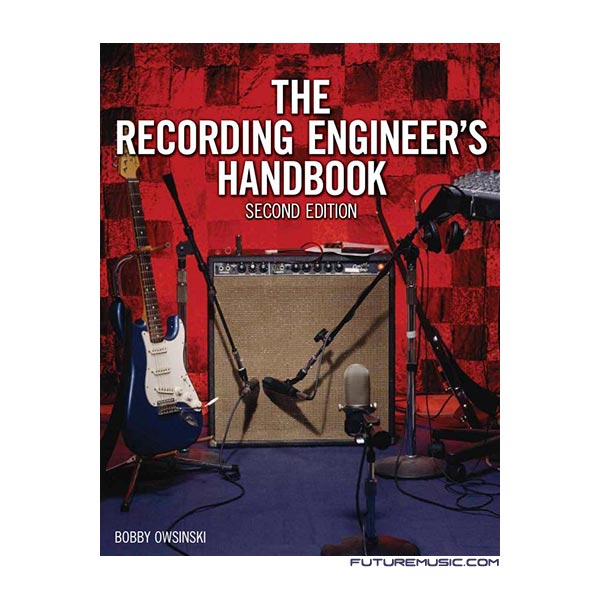 Owsinski has been part of the music business for quite some time — long enough in fact that the author portrait on the back of The Recording Engineer's Handbook is rather outdated — and has many music and film credits under his belt for producing, engineering and mastering.
Published by Course Technology, The Recording Engineer's Handbook weighs in at close to 400 pages and covers a wide gamut of recording areas. The paperback's large size (8.5″ x 11″) belies the "handbook" designation since this is not something you'd want to put in your kit bag when traveling to different studios. Considering the wide margin's, Course could certainly cut down on the tomb's footprint, saving both paper and allowing for more portability.


Outstanding Microphone Coverage
Owsinski does a solid job of covering many aspects of the recording process, everything from mic placement to vintage processors to surround sound recording. He spends considerable time outlining microphone placement technique and concepts for about 70 different instruments, including a broad selection of percussion. We found this to be a wonderful resource and almost worth the admission price alone. For individuals new to the studio, you'll want to keep this volume close at hand when facing various microphone placement conundrums during the recording process.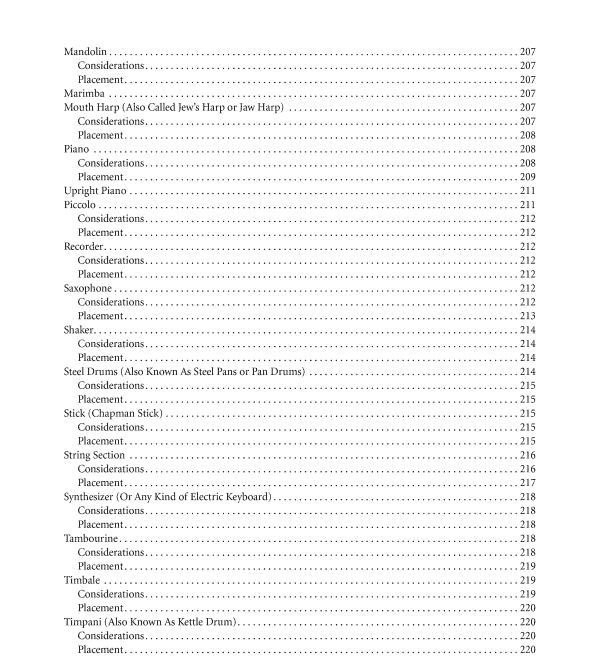 Owsinski's extensive microphone coverage includes technique and placement for over 70 different instruments


Where's The Beef?
Owsinski does fall short in the area of compression. Only a couple of pages are dedicated to this vital aspect of recording and he does very little to fill in the blanks beyond describing basic functions and providing a brief overview of a few bits of vintage kit. Considering how critical this is to recording methodology, Owsinski's omission is not only misguided, but also enigmatic. Compression, limiting and EQ need to have a dedication section, or even their own comprehensive chapter, describing various techniques, specifying thresholds / ratios for obtaining certain colorations and providing specific compression/EQ guidelines.
DAW recording is a little more detailed, but also gets somewhat glossed over. With the plethora of gear and options available and the traction that digital recording has gained over the last 15 years, there is certainly a lot more that Owsinski could have covered. Outlining Home, Project, Medium and Large studio gear packages would certainly assist less seasoned engineers in their understanding of the requirements necessary for each one of these particular situations.
Surround sound recording does get the full monty of coverage, most likely due to Owsinski's expertise in this arena and his evangelical promotion of the format (Owsinski at one time produced the Surround Music Awards). Thus, two chapters are dedicated to recording surround sound. Yes, two. One for technique and theory and another dedicated to microphones and decoders. Keeping in mind that Compression was only worthy of a couple of pages, this seems to be an inequitable choice, but the presentation provides a good overview.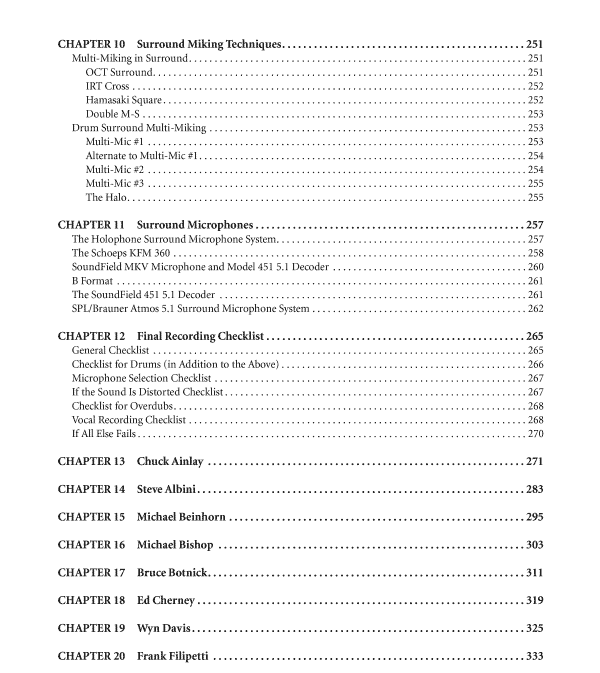 Thirteen renowned recording engineers are interviewed by Owsinski for The Recording Engineer's Handbook


No Replacement For Experience
Owsinski does include 13 interviews with many respected engineers including Steve Albini, Eddie Kramer and Al Schmitt. The insight and real world experience make for fascinating reading, and Bobby gets them to "chime in" on certain aspects of the recording process throughout the book. It can be debated on whether this aspect of the publication is outside of the "handbook" realm, but we feel this is a wonderful asset that adds polish, provides narrative and gives the book a lot more depth. In addition, it helps to fill in some of the missing content within the book, most notably in the region of compression.

Conclusion
The Recording Engineer's Handbook, 2nd Edition is certainly worth the price of admission, especially now that an Amazon Kindle edition is available for under $20. Bobby Owsinski does a respectable job of covering the many facets of the recording practice and an outstanding job of detailing the many different microphones and their suggested placement for capturing a multitude of diverse instruments. The minor shortcomings can certainly be addressed by acquiring additional source materials for more in-depth coverage, and thus we recommend this book for beginners and intermediate engineers who want to gain a better understanding of the recording process.
» FutureMusic Rating: 80%


Cheers:
+ Microphone Coverage
+ Surround Sound Recording
+ Engineer Interviews

Jeers:
– Compression coverage
– Book Size
Off The Record:
"The handling of compression, and dynamics in general, comes up severely wanting." —Greg Geller
"Engineer interviews make for compelling reading…I learned a lot from these passages." —Tim Lauren
"Wonderful microphone coverage including placement, technology and applications makes the book worth every penny." —Dan Brotman

The Recording Engineer's Handbook, 2nd Edition By Bobby Owsinski retails for $40 (About $26 at Amazon and other booksellers) and is available now.
The Recording Engineer's Handbook, 2nd Edition