Yamaha Unleashes THR Amplifier Series – Portable Stereo Amp, Sound System & Audio Interface
Yamaha has unleashed the THR amplifier series. The THR series are hi-fi stereo amplifiers, which feature guitar multi-effects and classic amp modeling, they also function as a guitar recording interface via a USB connection. Both the THR10 and the THR5 provide stereo playback from your smartphone or other device through its AUX jack or direct from your computer via the USB connection.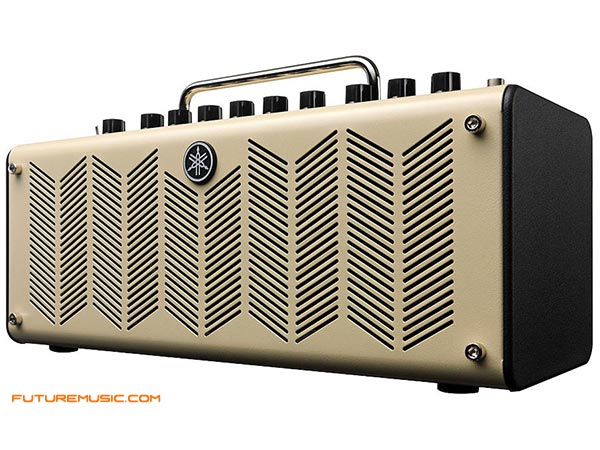 Developed by a team of guitarists in search of the ultimate tone, THR delivers the sound that you want and the feeling that you need. Effects that enhance and complement your playing combine with room-filling reverbs and delays to push your playing to new levels. And thanks to THR's unique design and focus, stadium-filling volume isn't a pre-requisite – everything about this amp is designed to fit the way you play, right down to the need to keep it quiet sometimes. With tone and feel like this, you'll appreciate the ability to keep playing all night.
Features:
» THR10 offers five amp types + bass, acoustic and flat: CLEAN / CRUNCH / LEAD / BRIT HI / MODERN / BASS / ACO / FLAT
» VCM EFFECTS: Most of THR's effects feature VCM effects processors. Based on the technology used in Yamaha's professional audio mixers, VCM effects give unsurpassed realism and quality.
» VCM (Virtual Circuitry Modeling): VCM effects are capable of capturing subtleties that simple digital simulations cannot even approach, going beyond simple simulation and delivering the truly musical performance that makes classic analog gear invaluable even in today's digital production environment.
» Hi-Fi Audio Technology: THR was developed with Yamaha's AV division to offer hi-fi stereo sound and a new experience in guitar amplifiers. The exclusive, specially designed speaker enclosure is optimized to handle both guitar and stereo playback sounds making THR uniquely capable of giving you amazing tone for both your guitar and your track from a compact, portable amp.
» New Extended Stereo Technology: THR incorporates Yamaha's new Extended Stereo Technology to create an incredibly wide, spacious audio image. Stereo tracks and studio quality reverb take on a depth unimaginable from such a small enclosure.
» BATTERY POWERED or AC POWERED: THR's two-way power supply lets the unit operate on AC (PSU supplied) or battery power.
» THR Editor: The THR Editor, available for download from http://download.yamaha.com, offers deep editing of amp and effect parameters using a computer. Additional in-depth controls include compressor and noise gate functions.
» USB Connection: THR's design provides stereo playback from your smartphone or other device through its AUX jack or direct from your computer via the USB connection.
» USER MEMORY: User memory function lets you save up to five amp settings of all controller and switch settings for quick recall.
» TAP : TIME / HOLD : TUNER: Tap tempo function to quickly set delay time.The built-in chromatic tuner features accurate, stable tuning and an easy to read display.
Most guitarists have a stage rig and a smaller practice amp, but the THR10 and THR5 provide a third alternative – an attractive amp with a multitude of capabilities that fits on a coffee table or desk and provides great sound for the times when a guitarist isn't on stage. Fully portable, the battery powered THR amps feature Yamaha's Virtual Circuit Modeling (VCM) effects, including reverb, and realistic tube-like amp response. It also includes an input for an MP3 player and a USB direct input.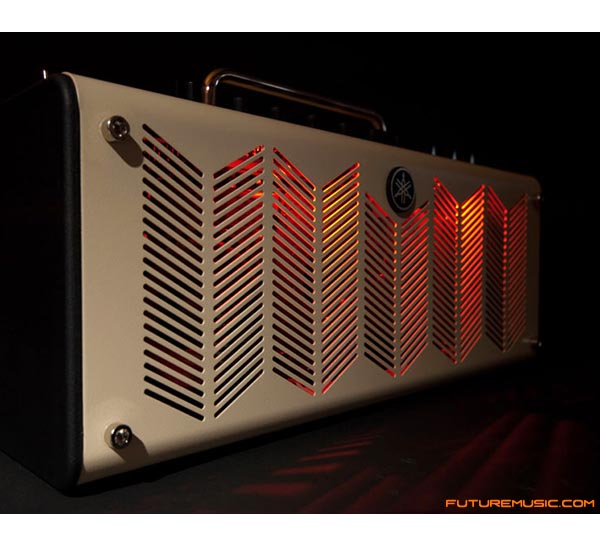 The THR represents a new category of guitar amplifier that comes bundled with Cubase AI6 Digital Audio Workstation and offers near-zero latency computer recording. And, when connected to a computer, it can serve as a monitor. The hi-fi stereo playback blends with the guitar output so that it sounds like the guitarist is part of the band.
The Future: We're not too keen on the "Virtual Tube Illumination" – a gimmicky feature that tarnishes some of the THR's innovative approach – but we can understanding the inclusion once the specs were presented to the marketing team: "Can you make it glow like it had real tubes? Huh, huh, can you??!" Notwithstanding, this is a very compelling concept, and Yamaha should do quite well with the THR series.
The Yamaha THR10 will street for about $300 and the THR5 for around $200 when they bow this Spring.
Yamaha