Teenage Engineering Debuts Oplab
Teenage Engineering has announced a new platform for sound creation and manipulation. The Swedish company debuted the Oplab at the NAMM show last month and now has a dedicated page to the new offering.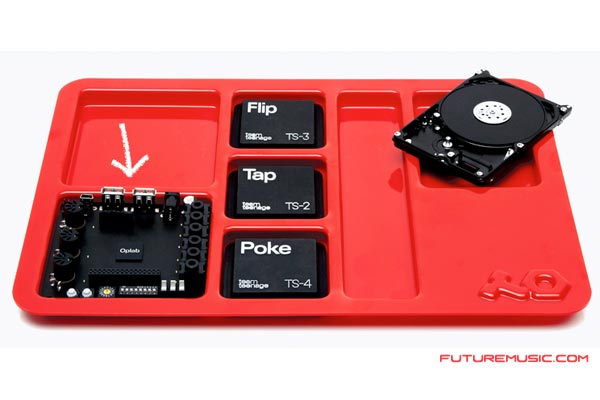 The Oplab Musical Experimental Board allows you to interconnect a variety of electronic musical instruments. With 2 x 12 bit switchable Digital in- and outputs you can interconnect synthersizers, lights, LEDs, buzzers, motors, sensors, the list is endless. All in sync with your music or controlled by MIDI data from your sequencer.
Connect knobs, potentiometers and LEDs and add some programming skills and you are able to build your own soundmaking machine solely on Oplab. With MIDI in and out straight from the board. A development kit will be ready in the near future. One of the fundamental ideas behind Oplab is to let you connect things, toys or junk that you already have around you and to make it interact with your electronic musical instruments. Grab a broken hard drive, rip it apart, connect and use it as a scratchpad. Connect a mouse for a pitch bender, again the list goes on…
There will be four accessories available at launch for the Oplab. The Tap TS-2 is piezo microphone based sensor. Trigger any percussion type of motion or to build in your own designed drum pads. The Flip TS-3 is a accelerometer type of sensor that can measure spherical movement like shaking or flipping. Under some circumstances it can also measure strikes or throwing. Poke TS-4 is a pressure sensitive sensor. The harder you press the higher value. And finally the Teenagers have debuted the TS-1 Team Sneaker with rubber side pocket. TE eamed up with Spalwart Industries to create our own team sneaker with rubber side pocket for electronics. This is the original and only sneaker that was available behind the iron curtain. Still made in Slovakia at the same factory. Hard to say if this is a good or bad thing, but since it looks like they just ripped off Converse's "Chucky T's" – the only downside is the price at $149. Some Duct tape on the side of your Jordans would would most likely suffice…
The Teenage Engineering Oplab costs $299 and is scheduled to be available this Spring.
Teenage Engineering