WaveMachine Labs Announces Auria – Comprehensive Digital Audio Workstation For iPad
Something that many thought was not possible with the iPad 2, WaveMachine Labs has announced Auria, a full-on Digital Audio Workstation for the iPad. This is not some 4 channel Mickey Mouse DAW that we've seen before, this is a fully-blow out digital recorder with the ability to play 48 mono or stereo 24bit/44.1 kHz tracks simultaneously, and record up to 24 of those tracks simultaneously via any supported USB multichannel audio interface. WaveMachine has set a new high water mark for iPad multitracking with Auria.


Not only does Auria have the goods under the hood, but the interface looks sweeeeeeet! Modeled after what looks like a combination of several high-end consoles, the Auria interface looks substantial. Auria's 64-bit Double Precision architecture ensures ample headroom for plug-in processing and mix summing. There's also a lot of facets of the App that reveal much deep thinking by Wave Machine, such as customizable pan laws, meters that are selectable between VU and RMS, as well as full delay compensation for all tracks, including aux sends and subgroups. Complete with a vintage-inspired channel strip on every channel, a dedicated master channel strip, VST plug-ins engineered by renowned makers such as PSPaudioware, Overloud, Fab Filter and Drumagog, and support for Dropbox, Soundcloud, AAF, and MP3, Auria raises the bar for recording and mixing on the iPad.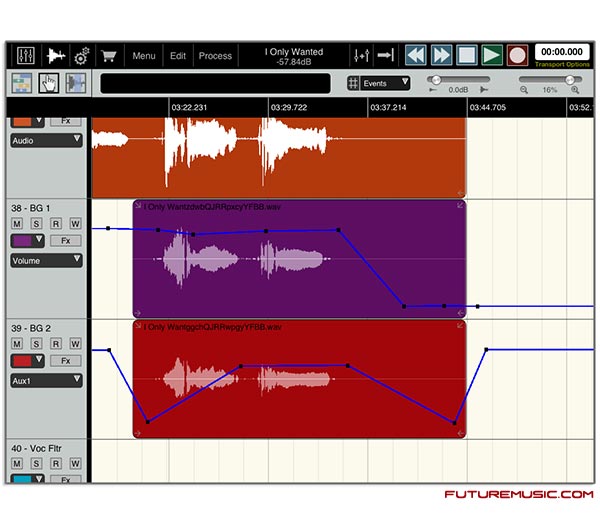 When recording, Auria lets you set input levels and choose to monitor tracks with or without effects. Punch in and out, loop record, using the minutes and seconds or samples ruler. Set Auria to snap to events, cursor position, or grid, if you like. Bring in audio from iTunes. Or sessions from Pro Tools, Nuendo, Logic, Digital Performer or other DAWs via AAF import. Zoom in for sample-accurate editing with cut, copy and paste. The optional Drumagog plug-in even lets you fine-tune your drum tracks.
Turn your iPad portrait for 100mm long-throw faders controlling up to 48 mono or stereo tracks, each with two aux sends, and a PSP ChannelStrip with extensive eq, expansion, compression and gating controls. In addition, you can add up to 4 plug-ins to each channel. Fix a vocal with the included MuTune processor; do some frequency tweaking with the optional FabFilter Pro Q; or get an analog sheen with the optional PSP MicroWarmer. On top of that, there are 4 subgroups as well, each of which can also accept 4 plug-ins. With full automation for both channel controls and plug-ins, Auria's mixing power is unsurpassed on the iPad.
Superb ambience effects come with Auria, including Convolution Reverb featuring IR samples from MoReVox, ClassicVerb, PSP StereoChorus and PSP StereoDelay. Optional plug-ins, via in-app purchase include PSPaudioware Echo and Micro Warmer, Fabfilter Pro Q, and Overloud TH-2 and BeVerb plug-ins, to begin with with prices ranging from $10-$20.




Auria takes the user right through to final mixdown, with the included PSP MasterStrip, featuring EQ, compression, and brick-wall limiting. Output as an MP3 or WAV file, use Audio Copy/Paste, or output directly to iTunes, Soundcloud, or Dropbox. Or export an AAF session which you can bring into Pro Tools, Nuendo, Logic, Digital Performer or other DAWs.
WaveMachine's Auria will sell for $49 via iTunes when it makes its official debut.
The Future: Impressive. On all levels. What WML have accomplished must have really raised the hairs on the back of a lot of major DAW's necks at the NAMM show. With a more powerful iPad just around the corner, the future is clear…
WaveMachine Labs