Clavia Announces Nord Drum – Virtual Analog Performance Module
Clavia has announced the Nord Drum, a 4-channel drum synthesizer. The new Nord offering features retro-futuristic percussion with analog waveforms. You have the option to mix harmonically complex waveforms together with different colors of noise for a nexus of organic and man-made. The Nord Drum is designed for performing musicians rocking electronic kits with a wide dynamic range and super-fast triggering, but can be used as a MIDI module as well.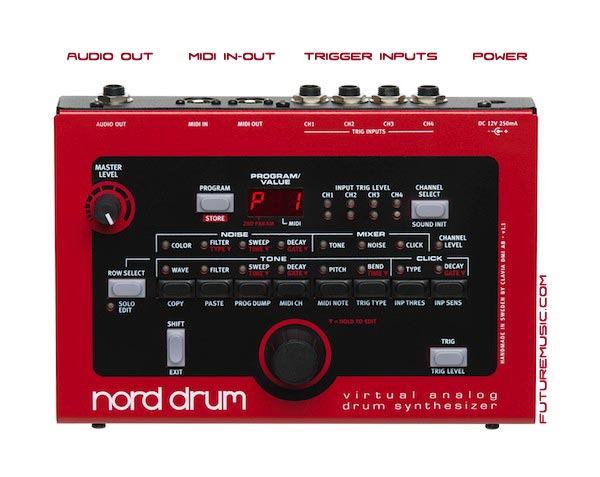 Four high-sensitivity inputs and MIDI lets you play the Nord Drum with a wide range of Electronic Drum Pads, Acoustic Drum Triggers and MIDI-pads/Sequencers for easy integration into any existing drum-kit or the starting point for something completely new.




Clavia's Nord Drum costs £399. No timetable has been officially set for release.
The Future: With all due respect, the new drum module from Nord was somewhat of a letdown. With a somewhat limited sonic palette, the Nord may find itself hard-pressed to be the only module in an electronic drummer's rig. However, as an additional device for aural mayhem, this could be quite attractive to established players, especially at the assessable price point.
Nord Drum