BugBrand Liberates The BoardWeevil For 2012
Bristol's resident Mad Scientist, Tom Bugs, has declared that his famed BoardWeevil has returned to the playing field after a year away. The short retirement was not all birds and brandy, since the new improved BWeevil has been streamlined in its approach and now includes some powerful additions.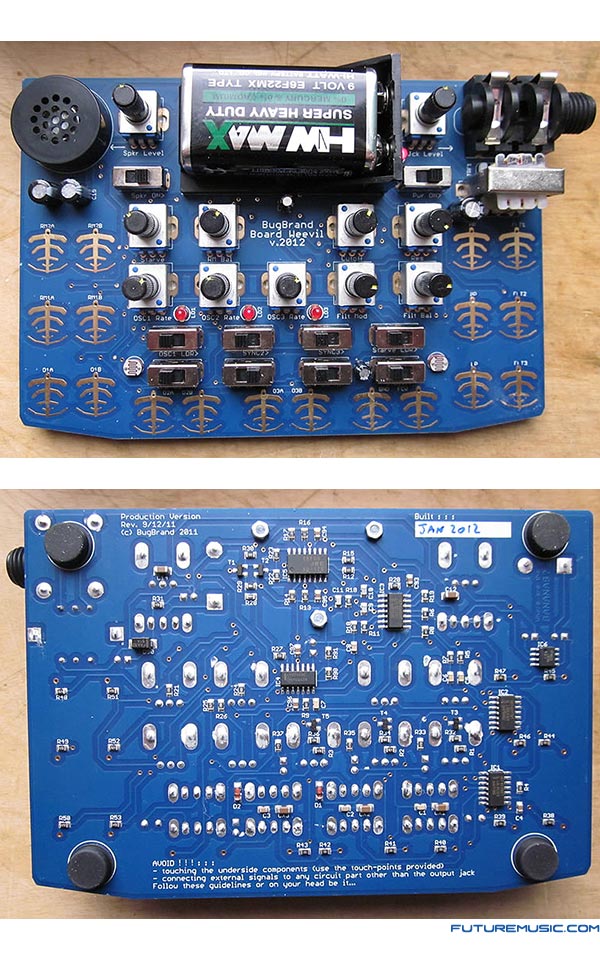 The BWeevil is built around a sonic-heart of three simple Square-Wave Oscillators which are combined via two quasi Ring-Modulators. This is followed up by a powerful Resonant Filter – a State-Variable version with manual blending between Low-pass & High-pass responses and variable modulation via the first Oscillator. This filter can produce some lovely pinging sounds when run at full resonance with low-frequency oscillation settings.
Two key circuit-bend techniques are applied to this core to bring the machine to vivid life. Firstly there is the Power Starve control for the Osc/RingMod generators, which sends them into crazy-mode. Then there are a total of 18 touch-points which allow you to directly interface with the circuitry, creating new routes of electronic flow. There are two independent outputs onboard – each has its own level control and they give distinctly different sonic results. The MiniAmp/Speaker allows Weeviling on-the-move, while the transformer-isolated 1/4″ Jack Output allows for more regular studio usage.
One new step from the previous BWeevil is that the circuit is now built around Surface Mount components (SMD) – these are all mounted to the underside of the circuit board, allowing for a clean & compact layout up top. From the beginning of 2012, all units will be part-produced – the SMD parts are auto-inserted and soldered by machine and then hand-finished with all the extra hardware (switches, pots, etc). Power is, as always, battery only – use a standard PP3 9V cell.
The new BugBrand BoardWeevil costs £130 and is available now.
The Future: We love Tom. And his creations are truly one of a kind. For anyone interested in circuit bending or experiments in sound, Tom's site is vastly entertaining. We are wondering what would happen if one of Korg's Monotrons suddenly found itself strapped to his workbench…
BugBrand