Universal Audio Announces Apollo Computer Audio Interface With UAD Processing
Universal Audio has announced Apollo, a high-resolution computer audio interface with 24-bit/192 kHz sound quality and onboard Realtime UAD Processing.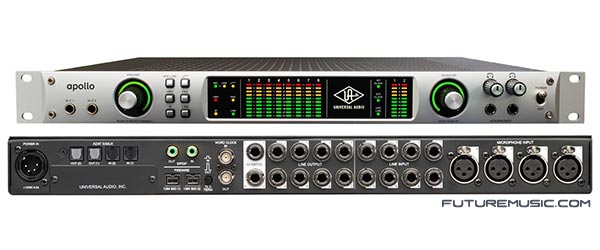 Designed to play a central role in a modern Mac- or PC-based studio, it offers high-resolution sonics, with the lowest THD and highest dynamic range in its class. Apollo's premium mic preamps, top-end converters and UA's attention to circuit design — claim to translate your recordings with greater accuracy and depth.
While Apollo's sound claims to be open and transparent, it can quickly deliver a wide range of classic analog tones and color via its Realtime UAD Processing. Available with either DUO Core or QUAD Core processing onboard, this onboard DSP Acceleration allows for recording and mixing through UAD Powered Plug-Ins — with as low as sub-2ms latency — so that producers can quickly monitor, audition, and "print" audio using classic analog emulations from Ampex, Lexicon, Manley, Neve, Roland, SSL, Studer, and more.Want to place multiple 1176 compressors on your drum inputs, or record vocals through a classic Neve 1073 EQ, or even track the entire band through a Studer A800 tape machine in real time? No problem. With Realtime UAD processing, Apollo's sonic options are virtually endless.
Features:
» 18 x 24 audio interface for Mac and PC
» Connectivity: Dual FireWire 800 ports – (Thunderbolt-ready with separate card)
» Realtime UAD Processing for low-latency (sub-2ms) tracking and mixing w/ UAD Powered Plug-Ins**
» Premium mic preamps, top-end converters, and uncompromising analog design
» Front-panel controls for all commonly used features
» Full recall of interface and UAD plug-in settings within DAW sessions via Console Recall plug-in (VST/RTAS/AU)
» 8 analog inputs: 4 digitally controlled analog mic preamps; 8 balanced line inputs; 2 front-panel JFET DIs
» 14 analog outputs: 8 balanced line outs; 2 digitally-controlled analog monitor outs; 2 dedicated stereo headphone outs
» 10 channels of digital I/O: 8 channels of ADAT; 2 channels S/PDIF; Wordclock I/O
» Includes "Analog Classics" plug-ins: LA-2A Classic Audio Leveler, 1176LN Limiting Amplifier, and Pultec EQP-1A Program Equalizer
Apollo offers compatibility with Intel's new Thunderbolt technology, as found on the newest iMacs, MacBook Pros, MacBook Airs, and next-generation PCs.
Available via a user-installable dual-port Thunderbolt I/O Option Card (sold separately), Thunderbolt provides lower latency, reduced audio buffer size, improved performance, and greater UAD plug-in instances versus FireWire. And because Thunderbolt offers many times the bandwith of FireWire, it allows music producers to connect numerous devices in series with the Apollo interface — including hard drives, processors, and additional computer monitors.
Apollo's Core Audio and ASIO* drivers ensure compatibility with all major DAWs, including Pro Tools, Logic Pro, Cubase, Live, and more. Beyond this basic compatibility, Apollo's included Console application and companion Console Recall plug-in (VST/AU/RTAS) provide control and recall of all interface and UAD plug-in settings within individual DAW sessions, even months and years later. Read more about Apollo's included software here.
There are physical front-panel controls for all the most commonly used features, including Preamp and Monitor level knobs, channel selection, mic pad and low cut, phantom power, and even dual headphone outs with independent level control. Smart Hi-Z inputs on the front panel detect when you've connected your guitar or bass, and automatically enable hardware and software monitoring.
Sonically, Apollo's Mic inputs and Monitor outputs are digitally controlled analog, so you don't lose audio resolution when you adjust gain. High-resolution/high-contrast metering, derived from UA's 2192 interface, is designed to be viewable at nearly any angle. Finally, standalone operation means that you can use Apollo's audio connections, and last-used DSP mixer settings, even without a computer connected.
No pricing or availability has been announced.
UA