Galaxy Instruments Unleashes Galaxy X Virtual Convolution Synthesizer For Sound Design
Galaxy Instruments has released Galaxy X, a new virtual instrument with a new kind of sound design potential. X is a Convolution Synthesizer, bringing an extremely powerful and creative sound design tool to your sound creation arsenal: FX Convolution. After three years of development, Galaxy X features over 1400 convolution X-Files to completely change over 15GB of Source material, all especially recorded and tweaked for the synth.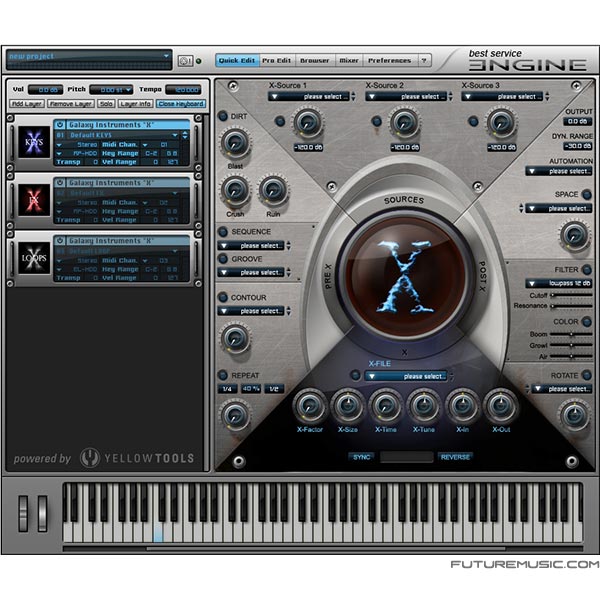 For instant use, you can choose from over 1000 instrument layers. Sound categories include spheres – impacts – rhythms – tonally playable loops – tons of effects – morphed sounds – sequences – cinematic soundscapes – wild ambiences – drones – effect grooves – reversed sounds – all from smooth and deep to hard and heavy, and a lot more.
In the audio world, Convolution is the process of multiplying two signals together or folding one audio file over the other one. The result is a hybrid of the two original sounds, introducing a whole new world of sound creations. With Galaxy X, those two sound files are the Sources and the X-Files. The Sources are sample sets especially and exclusively recorded and tweaked for use with FX Convolution. All in all X delivers about 15BG of source material with almost 1000 tonally playable source key instruments, over 2000 Effect Sounds and over 5000 Loops. The X-FILES are Impulse Responses, specifically created for FX convolution, which shape, twist, filter, reverse, deepen, morph and even destroy and rebuild the source sounds.




By the X-Engine's X-Files a celeste mutates into a tuning orchestra, a bowed ventilator sinks into the resonances of a piano, a sitar smashes into a clatter of glass, a tonal dance loop arises from a kalimba. The combination of Sources and X-Files creates trillions of sounds unheard before.
Features:
» New sound synthesis for exciting new sounds
» Integrated system for FX convolution in one virtual instrument
» Complete production kit: X-Keys, X-FX and X-Loops
» More than 1000 ready-to-play Instrument Layers
» Easy creation of user sounds
» 15GB of Source Sounds
» More than 1000 multi-sampled Source Key Instruments
» More than 5000 Source Loops
» More than 2000 Source Effect Sounds
» More than 1400 Convolution X-Files for completely altering the source sounds
» Complex sound design with an extremely intuitive user interface
» Easy dynamic use of convolution using the Mod Wheel
» X-Eye for visualizing the amount of convolution
» Musical and intuitive Pre-X and Post-X effects
» PC: Windows XP (SP2) / Vista / Win7 (32/64 Bit) – Pentium or Athlon XP 1.4 GHz (3GHz recommended) – 1 GB RAM Minimum.
» Mac: OSX 10.5 / 10.6 – Intel Core Duo 1.66 GHz (1.8GHz recommended) – 1 GB RAM Minimum
Galaxy Instruments Galaxy X costs $299 / €249 and will be available sometime this winter.
Galaxy Instruments