Glyph Announces PortaGig 50 SSD – Compact External Solid State Drive
Glyph has announced the PortaGig 50 SSD, a new solid state drive, which has a distinct advantage over standard 2.5″ HDDs since it eliminates the possibility of mechanical failure resulting from vibration, shock, and heat. In remote production situations, this means your PortaGig 50 SSD can operate reliably for more hours, in hotter environments, and under rougher conditions. The big question is whether or not Glyph can manufacturer an external drive solution for DJs that can deliver rock-solid, glitch-free playback reliability with high-resolution files…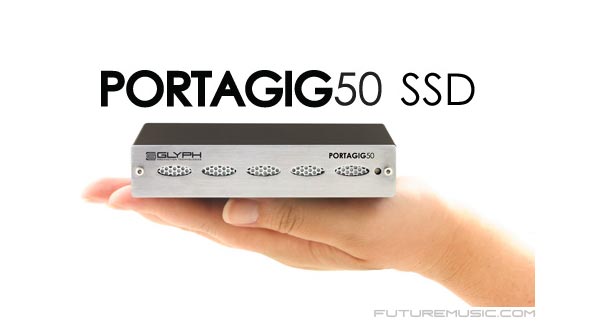 With no moving parts on the solid state drive, it has near-instantaneous read access time. While a conventional HDD must wait for the rotation of the disk to bring the required sector under the read/write head (rotational delay), and for the access arm to reach the desired disk track (seek time), an SSD delivers your data almost immediately. Additionally, no noise is generated from the PortaGig 50 SSD, and much less power is needed for operation, which means less heat is generated, as well as a substantial weight savings.



Glyph claims their new PortaGig 50 SSD drives will have extremely fast access speeds, translating into high playback performance, even at high edit density. Using our Digidesign Pro Tools test sessions, (playback only) we were hard pressed to find the limits of the PortaGig 50 SSD. Just to compare, our PortaGig 50 (using a 7,200RPM HDD) can reliably play 26 tracks of 48 KHz/24-bit audio, with 3 edits/second across every track. The PortaGig 50 SSD can play 128 tracks in this scenario, hitting the limit of our test session. That's more than 100 tracks higher than our standard PortaGig 50.
Specifications:
» Capacities: 120GB | 160GB | 300GB | 600GB
» Memory Type: Multi-level cell (MLC) flash memory
» Interface connectivity: (2) FireWire 800 (IEEE 1394b) 9-pin ports, (1) USB 2.0 Hi-speed (device-side) port, (1) eSATA 3Gbit/s port
» Bridging chipset: Oxford 934
» Average seek time: 0.1ms
» Maximum transfer rate (eSATA port) 3 Gbit/s (300MB/sec)
» Dimensions: (HxWxD)Product: 1″ x 4.8″ x 3.6″ / 2.5 x 12.2 x 9.1 cm
» Packaging: 2.4″ x 10.5″ x 6.8″ / 6 x 26.7 x 17.3 cm
» Weight: 0.4 pounds / 0.2 kg
» Power Supply: External – Universal 100-240v 50/60 Hz
Designed with a fanless, aluminum enclosure, PortaGig 50 SSD is bus powered and extremely light. If bus power is not available or is insufficient, you can use the included power supply. Weighing 8 ounces, it has two FireWire 800 ports, one eSATA port, and one USB 2.0 port, a rear power switch, and is designed around the industry-proven Oxford 934 chip. Built-in ECC (Error Correction Code) functionality ensures highly reliable data transfer, while wear leveling technology redirects writes to lesser-used locations, ensuring a longer life span and data-retention.
No pricing or availability has been announced.
Glyph