Vienna Symphonic Library Release Vienna Ensemble Pro 5 & Vienna MIR Pro
The Vienna Symphonic Library team has upgraded their leading Ensemble Pro to version 5, and developed a one-click integration with their refreshed Vienna MIR PRO. Both new software applications come with a host of new features.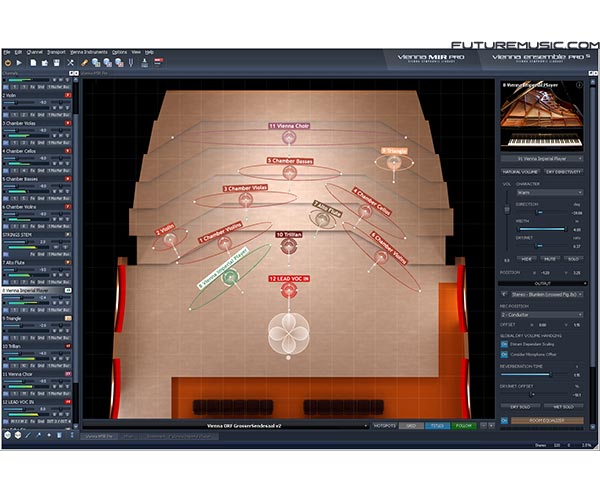 Vienna Ensemble PRO is a cross-platform mixing host with MIDI and audio LAN capability, hosting Vienna Instruments as well as third-party 64-bit and 32-bit VSTi/AU plug-ins. Vienna Ensemble PRO solves a variety of challenges that can occur in any modern studio. Among a multitude of other features, it allows users to run VSTi/AU plug-ins on slave computers (Macs and PCs, all connected with a simple Ethernet cable), to use 32-bit plug-ins with a 64-bit host and vice versa, and to integrate VST and Audio Units plug-ins with Pro Tools. One of the biggest time-savers is the "Preserve" function that keeps all plug-ins and samples of a Vienna Ensemble PRO instance loaded when moving from one sequencer project to another. Without it, users must reload their entire bank of plug-ins and samples every time they change cues, often an extremely time-consuming chore. What's more, the included EPIC ORCHESTRA, a free 9 GB Grand Orchestra bonus library is the ideal entry-level package to dive into the virtual symphonic world of the Vienna Symphonic Library. Since its first release in the fall of 2009, Vienna Ensemble PRO has been installed by thousands of users working in all kinds of environments, including professional and project studios.
New features of Vienna Ensemble PRO 5
The new Vienna Ensemble PRO 5 mixing host offers full surround support adhering to ITU standards (up to 7.1), touch parameter automation for total control of all plug-ins on slave computers, and a transport function to start/stop the sequencer from within Vienna Ensemble PRO 5. The new audio input plug-in enables users to route audio signals directly from their DAW into Vienna Ensemble PRO 5, e.g., to turn it into a virtual FX rack on their slave computer. By far the most outstanding new feature is the optional integration of Vienna MIR PRO, which can be opened with a single click from within Vienna Ensemble PRO 5, routing the channel's signal directly to the Vienna MIR PRO application.
Vienna Ensemble PRO 5 supports the formats AU/VST/VST3/RTAS and comes with 3 licenses for setting up a network of up to 4 computers. An additional license of Epic Orchestra, a free 9 GB Grand Orchestra Sample Pack, is included.
Vienna MIR Pro
Vienna MIR is the first ever whole-space mixing and reverberation solution based on Multi-Impulse Response convolution that was released in the summer of 2009. Vienna MIR introduced new concepts, new technologies, as well as unprecedented sound to the world of mixing and reverberation, rendering space as the unifying presence that merges every single virtual instrument into one authentic sound experience.
Based on the central idea of a holistic spatial mixing, Vienna MIR merges all parts of the creative process into a single intuitive workflow, allowing the user to interact with the virtual players more like a conductor than an engineer. Its innovative MIR Control Icon offers concise control for positioning each instrument on a virtual stage, changing its volume and stereo width, and even rotating it within a fluid three-dimensional environment. The software combines specific directional frequency profiles and reflectional information from every instrument, assembling all of the acoustic interactions into an accurate and satisfying recreation of musicians playing their instruments in place and in space. Vienna MIR is much more than just "a multi-sample" of a hall – and this is where it far surpasses any other convolution reverb available on the market. The application hosts Vienna Instruments as well as third party 64-bit VSTi plug-ins and delivers stereo and various surround formats on up to 8 output channels. It includes a staggering 11,000 impulse responses from four halls in the famous Vienna Konzerthaus, plus its grand foyer. Further RoomPacks offering recording studios, sound stages (e.g., Teldex Berlin), and churches are available as optional downloads.
New features of Vienna MIR PRO
Vienna MIR has been rebuilt from the ground up and is now Mac OS X compatible. Including all tried and tested features of its predecessor, Vienna MIR PRO comes with additional audio inputs, AUX sends, direct and stem outputs, LAN capability, full latency compensation and MIDI remote control of user-defined parameters. Due to its direct integration within the new Vienna Ensemble PRO 5 host it can be used with any common DAW and provides for an ultimate symbiosis of workflows in the studio – hosting, mixing and reverberation.
Vienna Ensemble PRO 5 is available at an introductory price of €215 through December 15, 2011 in the Vienna Symphonic Library webshop. As an option to downloading, customers may order a USB flash drive for an additional charge. The regular price after December 15, 2011 will be €235. The upgrade price for registered users of Vienna Ensemble PRO is €40 during the introductory period and €65 after December 15, 2011. The original Vienna Ensemble PRO has been renamed to Vienna Ensemble PRO 4 and is still available at €195.
Vienna MIR PRO requires Vienna Ensemble PRO 5 as a mixing host. Since the stand-alone version of the original Vienna MIR is no longer available, the Vienna Symphonic Library offers a bundle of both applications at an introductory price of €835 through December 15, 2011. Registered users of Vienna MIR may download Vienna MIR PRO at any time, free of charge. More bundle and upgrade discounts are availabe at the Vienna Symphonic Library website.
Vienna Symphonic Library