Algoriddim Updates djay To Version 4.0
Algoriddim, makers of quality DJ mixing software for Mac and iOS devices, has updated their excellent djay mixing software for Mac (See our djay3 review. —Ed.) to version 4. Rewritten from the ground up and optimized for OS X Lion, djay 4.0 for Mac features a visual interface that enables music lovers of all types to compose beats, DJ a party, create playlists or simply enable Automix and enjoy their iTunes collection in a whole new way.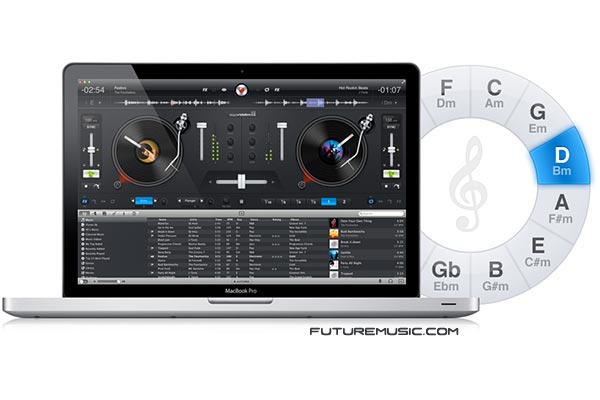 djay for Mac continues to build upon algoriddim's philosophy of creating accessible DJ tools for all users. Pros and beginners alike will find new features, such as Harmonic Match and enhanced audio FX, significantly improve the experience of mixing music on the Mac. With the introduction of the new visual key match wheel, djay automatically registers a song's key and matches it to songs of the same key within an iTunes music library. This first-of-its-kind integration of harmonic mixing capabilities enables easy mashups that are pitch-perfect.
With the needs of professional DJs in mind, djay for Mac now has even more pro-level features such as: visual waveforms, customizable audio FX, advanced MIDI integration, and the ability to change the color scheme from light to dark for easier viewing in nightclubs or anywhere the lights are low.
djay for Mac transforms the Mac into a dynamic and portable DJ system touting easy-to-use features such as seamless integration with the iTunes music library, a stunning visual interface for a more interactive experience, Automix mode, as well as advanced features designed for professional DJs. The software is now available exclusively via the Mac App Store, making it instantly available for anyone with a Mac.
Enhancements:
» Refined Single Window UI
» Harmonic Match
» Visual Waveforms
» Audio FX
» iCloud Integration
» Integrated Live Sampler
» Advanced MIDI Learn
» Enhanced Multi-Touch Control




Algoriddim's djay 4.0 for Mac is available exclusively from the Mac App Store for $20 bucks and is compatible with OS X Lion, Snow Leopard, and Leopard.
The Future: This pricing is for a limited time…if version 4 is half as good as version 3, this is a steal! Check it out now!
Algoriddim