V-MODA Unveils Limited Edition Crossfade LP2 Matte Black Metal Headphones
V-MODA has unveiled a special-edition of their Crossfade LP2 Metal Headphones. Fine-tuning the design and customization options of the Crossfade LP, the special edition Crossfade LP2 brings enhanced acoustics, military-grade durability and customization options out of the box.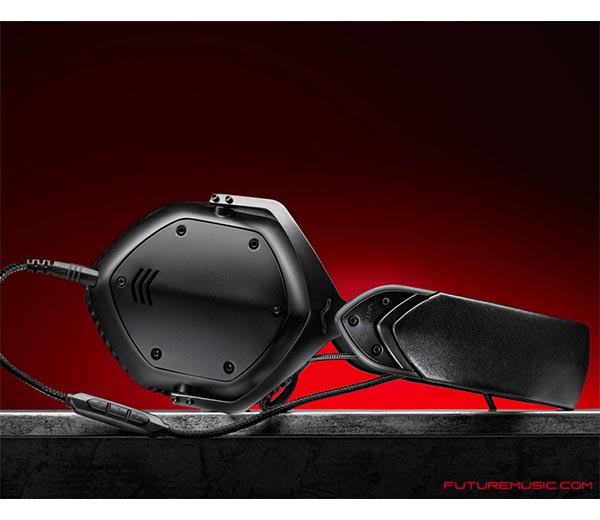 In a carbon copy world of "celebrity" headphones, V-MODA's endorse yourself customs program gives customers and performers the option of expressing themselves. Users can choose from an array of over 12 colors of interchangeable ear shields that can also be professionally etched with their own artwork and logos, letters or numbers. V-MODA's endorse yourself program is also available to existing V-MODA Crossfade series customers.
A refinement to the sound of the Crossfade LP, the heart of the Crossfade LP2's Live Play sound signature is its patent-pending 50mm Dual-Diaphragm Drivers and V-PORT 3D staging. This innovative driver displacement is energy efficient yet can recreate the sound of multiple drivers with the quality and consistency of a single driver. The driver's diaphragm is constructed of a harder inner ring for mids and highs and a soft outer ring dedicated to deep bass extension so you can actually feel the music, even with low powered sources.
V-MODA's labs, over years of research, found that many headphones artificially spike the highs above 8kHz to make up for older recordings, hearing loss and for users who listen at lower volumes. The Crossfade LP2, is however, fine-tuned with a 31-band EQ, which plays a vital part in creating it's unique Live PlayTM sound signature while protecting the ears from permanent hearing loss or damage.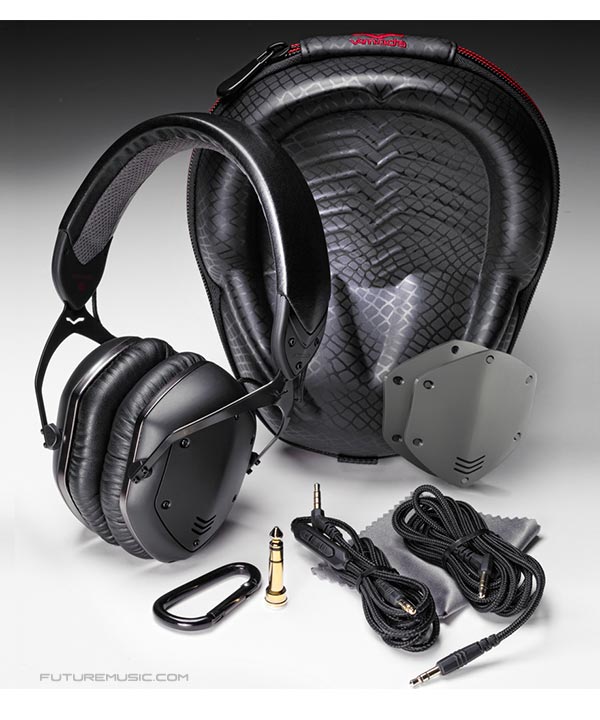 Features:
» Interchangeable shields (matte black installed and gunmetal colors included)
» Detachable Kevlar-reinforced cables with 24k gold-plated plug
» One 3.5mm fabric cable with a 3-Button remote control optimized for Apple products including iPhone, iPad and MacBooks
» One 3.5mm fabric audio cable universally compatible with all audio, tablet and smartphone products with a 3.5mm port including Android, BlackBerry and Windows » PhoneHard exoskeleton protective carrying case
» Kevlar reinforced detachable cables and 45-degree plug strain relief can each bend over 1 million times, over 100x industry standards
» Survives 70+ drops on concrete from 6 feet, approximately 3x the industry standard
» Headband can bend 10+ times flat, not break and retain its memory and shape
» Virtually inaudible sound variances across the spectrum of less than 2dB from unit to unit versus 10-30dB+ of inferior products
» MIL-STD-810G environmental tests including high and low temperatures, humidity, salt spray and UV exposure
» 2-Year V-MODA Premier Warranty
» Immortal Life Program – 50% off lifetime discount to replace consumer-damaged headphones
Replaceable supple memory foam ear cushions isolate noise and immerse you into your own world of sound. Relentless research went into the precise shape and materials of the headband and ear cushions, resulting in a tailored, fashionable fit without unsightly gaps and minimal pressure on the head and ear. Although they deliver big sound, the Crossfade LP2 is extremely lightweight in design and perfect for hours of immersive listening.
The Future: If the LP2's sound as good as the V-80's that were currently testing right now, we are definitely intrigued. But the understated Matte Black style, coupled with the ability to have your own DJ logo etched into the side, seals the deal for us.
V-MODA's Crossfade LP2 is available now for $199 including two sets of plates. An additional set of color shields is $25 and can be customized with your own logo for $45.
V-MODA