Corsynth Unleashes C101 OTA Lowpass Filter Module
Corsynth, a small company from the Northwest of Spain, has released the C101 OTA Lowpass filter module, a four pole low pass filter ( 24db/octave ) based on four cascade OTA-stages. The design is similar to the one found in classic synthesizers like Roland System 700, Roland System 100m, Roland SH-1, SH-7, SH-101, Roland Jupiter 8, Jen SX1000 and many others.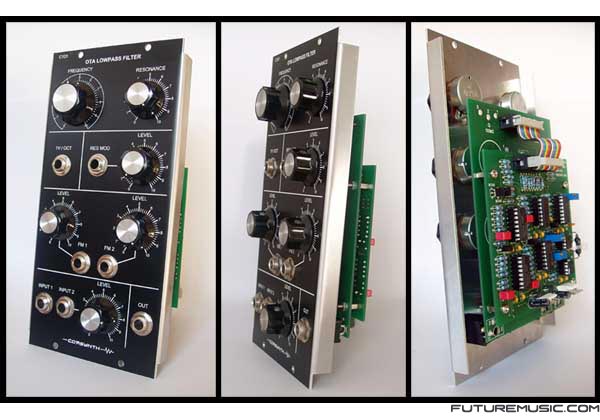 When the Resonance control is set at a high value the filter will start to oscillate and the C101 can be used as a sine wave VCO. The filter will track perfectly over at least 5-6 octaves and is also temperature compensated. In many 4-pole low pass filters the output volume drastically drops when the resonance is increased. The C101 OTA Lowpass filter is specially designed to maintain a constant output level at any resonance value (with the exception of when the filter is set to auto-oscillation). In addition, the C101 has voltage controlled resonance.
Features:
» Filter response 24db/octave
» Filter self-oscillate
» Can be used as VCO ( 1V/Octave )
» Voltage controlled Resonance
» Temperature compensated
» Two Frequency Modulation inputs
» Two audio inputs
» 1V / Octave input




Corsynth claims this module is built using high quality electronic components, Switchcraft jacks, Cosmo knobs (the same used by Moog Modular) and a silk screened front-panel. This is the first module Corsynth has released, but plans to manufacture additional modules for analogue modular synthesizers.
"I've choosed an OTA-C filter as fisrt module because despite [the fact that]there are plenty of filters in MU format, there isn't a filter of this topology," revealed Pablo Penas of Corsynth. "And it's strange since this kind of filter was widely used in a lot of analogue synths during the 70-80s."
So does Corsynth plan to ever release a standalone synth? "At this moment the idea is to manufacture only modules for modular synthesizers," Penas countered.
The Corsynth C101 OTA Lowpass Filter Module costs €210 and is available now.
Corsynth