4midiLoop DJ Controller Review
Hand-built using Faderfox components, the 4midiLoop defies every single DJ controller standard to deliver a one-of-a-kind experience that no other controller on the market can match. Even though, there's a Shift function, you'll most likely never utilize it since the 4midiLoop puts 227 controls at your fingertips. That's not a misprint, there are 227 knobs, buttons and faders on the unit. It is housed in a "unibody" chassis fashioned from a single block of aluminum with the best fit'n'finish we've seen on any DJ controller on the market.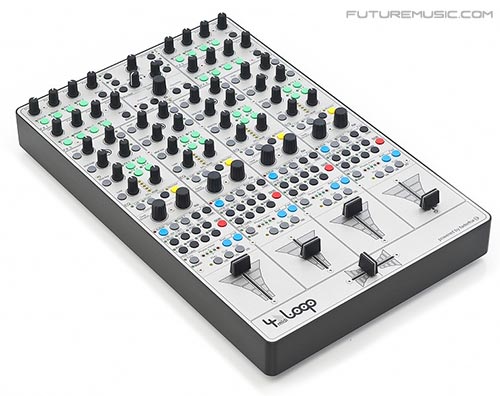 The 4midiLoop's layout was a huge hit with all reviewers who loved having "the full-Monte of effects and EQ" at their disposal. Four bands of EQ with kills and full effects control for each channel, translates into smoother, more creative mixing. However, the item that can't be overlooked is the fact that a 4midiLoop DJ has the ability to control all four decks in Traktor simultaneously, something that Native Instruments' S4 can't accomplish. In addition, having all eight cue points ready for action as a group of buttons "brought a smile to [the] face" of one reviewer who's cut'n'paste (controllerism) DJ style stands simple Dubstep tracks on their head. All the reviewers were initially taken back by the "lack of negative space" and "dense" assortment of controls wondering outloud "if there was just too much going on." However, after spending some quality time with the 4midiLoop, each one of the evaluators found their comfort zone and was able to adapt and excel with the layout. The controllerist was able to jam away on the buttons, but "wondered how much punishment those little buttons could take over the long haul."
Read the entire 4midiLoop review and learn why it won our esteemed Power Award.
4midiLoop