Arturia Unleashes The Oberheim SEM V
Arturia has released some additional details about their new Oberheim SEM V soft synth. The new offering won't be available until sometime in December, but the French concern has unveiled some sonic goodies on its website, as well as revealed the user interface.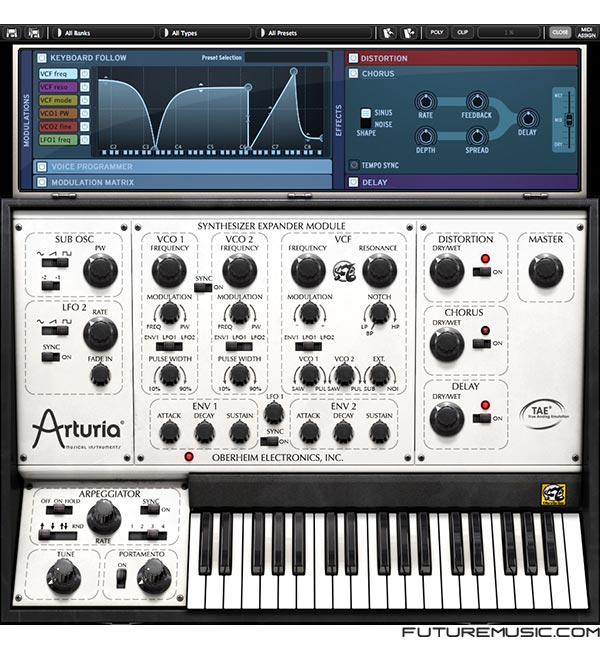 Arturia claims that the Oberheim SEM V, powered by the latest innovations in Arturia's proprietary TAE technology, is a "faithfull recreation of the original, but it will also benefit from 8 voice multi timbral polyphony and new innovative modules such as the Voice Programmer, the Advanced Keyboard Follow and a Modulation Matrix.
Features:
» All the original parameters of the Oberheim SEM : two oscillators, each offering sawtooth wave and variable-width pulse wave with PWM, sine wave LFO, 12dB/oct multi-mode Filter with low-pass, high-pass, band-pass and notch, two ADSD envelopes.
» Added functionalities : New LFO, Noise, Sub oscillator, on board effects (distortion, chorus and delay), Arpeggiator, Portamento.
» Polyphony and 8 Voice Multitimbrality
» White Noise, to mix into your etheral pads and FX sounds
» Sub Oscillator with sawtooth and sine waves, for added growl and bottom end
» LFO 2 with sine, sawtooth and square waves, for more complex modulations
» Professional Effects (Distortion, Delay, Chorus), to directly process your sounds on-board
» Arpeggiator, for instant basslines and inspiring melodic patterns
» Portamento to unlock more expression in your playing
» New 8-voice Programmer module
» Advanced Keyboard follow module
» Modulation Matrix module
» Works in Standalone, VST 2.4 & 3, 64 bit & 32 bit, RTAS and AU 32 & 64 bit formats/li>
» Compatible with Windows (XP/Vista/Seven 32 bit and 64 bit), Mac OS X (Mac OS X 10.5 or higher, Intel only)
The SEM was one of the world's first self-contained synthesizer modules. It was primarily developed as a convenient solution for musicians who wanted to set up sequences without tying up more valuable synths. The SEM also worked very well as an expander to fatten up the tone of other synthesizers like the Minimoog or the ARP Odyssey. Soon the SEM gained a popularity of its own, thanks to the unique sounds generated by its innovative multimode Filter.
Upon this success, Tom Oberheim expanded its concept by creating polyphonic synthesizers that were in effect combinations of the SEM with a digital keyboard in one carry-case. Besides the OB series, Oberheim extended its line with popular digital synthesizers such as the Matrix 6, 12 and 1000.
In 1985, Oberheim Electronics closed, however. Its brand and some of the products are continued by Gibson Guitar Corporation. But to the joy of synth enthousiasts, Tom recently restarted producing hand-made updated SEMs and has announced the release of a successor to his original 4-voice.
Oscillators:
Like all components of the SEM V, the two oscillators were recreated by respecting 100% of the properties of the original circuit. They replicate the exact sawtooth and variable-width pulse waveforms present in the original. On a control level, the SEM V interface also duplicates the behavior of the dual-concentric knobs for coarse and fine-tuning, this last parameter being easily accessible via right-click.
Filter:
The 12dB/octave multimode filter is one of the most remarkable modules in the SEM. In many ways, it helped define the sonic identity of Oberheim because it shaped a diverse range of sounds that were almost impossible to get on other synthesizers. The SEM V carefully models the four modes of the filter (low-pass, high-pass, notch and band-pass) with attention to detail, meaning that you can either switch to bandpass or sweep through the other three modes by turning the knob clockwise.
ADS Envelopes and Modulations:
The particular response of the ADS envelopes is accurately reproduced, as well as the VCF Mixer, Modulation knobs and switches, allowing you to nail any of the classic SEM tones.
Arturia's Oberheim SEM V costs $249 / €229 and will be released in December.
Arturia