Woo Audio Debuts Headphone Amp For 1%'ers
Or how to blow 10 large…
Woo Audio has premiered the WA-234 MONO, a headphone amplifier designed to accept a 2A3, 300B, or 45 tube by simply changing a switching key. In order to switch between these power tubes and alternate between headphone and speaker outputs, the company invented two types of switching keys, a Tube Switching Keys (TSK) and Output Switching Keys (OSK). You'd think that for ten grand they would have been able to come up with a sexier name…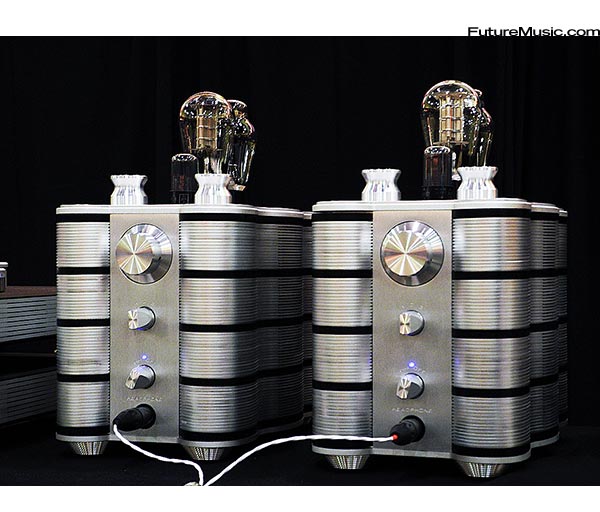 If you want to listen to a pair headphones with some warm sounding 300B tubes, you'd simply empty your wallet of $10,000 and insert a 300B TSK and a headphone OSK into the amp. Later, if you want to share the music with friends via speakers, you then swap out the headphone OSK and insert the speaker OSK. You therefore have the best of a headphone and a speaker amp in one. "You can switch between a 2A3 and a 45 tube just to suit your mood at any given moment." (Just imagine if I could simply change my mood by switching out some tubes, I could finally get off Prozac! —Ed.) To make the WA-234 MONO more versatile, we created OSKs for cathode and plate outputs for high and low impedance headphones.
Features:
» Discrete mono-block, Single-ended, Class-A
» Output transformer coupled, EI96 Permalloy core
» All triode drive, no semi-conductors.
» 2A3/300B/45 power tube via Tube Switching Key
» Headphone/speaker out via Output Switching Key
» Cathode / plate output alternation for headphone
» High and low impedance headphone outputs
» 6SN7 driver, 5U4G rectifier tube
» 2 RCA and 1 XLR input
» 3-pin XLR mono output for headphone
» Power on plate output 8 watt@300B, 4 watt@2A3, 2 watt@45
» Frequency response: 5Hz–62 KHz, -2dB on cathode output
» Seiden 46-position stepped attenuator, M-TubeCap, V-Cap
» Cursive aluminum casing with CNC machining
» Mains supply: 110/220VAC, 50/60Hz
» Weight: 60 lbs per channel
Hmmm…The Occupy Wall Street protesters are only steps away from Woo's offices. Coincidence? You be the judge!
Woo Audio's WA-234 MONO will set you back $10,000. No availability has been announced.
Woo