DNR Collaborative Releases MixControl Pro
DNR Collaborative has released MixControl Pro, a complete high-quality, professional channelstrip that offers flexible module processing, solid audio quality and a combination of useful new features.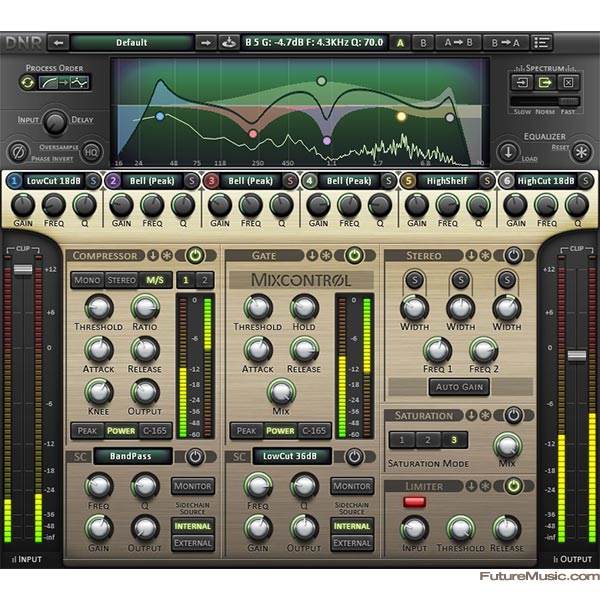 MixControl Pro builds on the solid foundation known in the original MixControl by adding many useful aesthetic and functional enhancements such as high-quality oversampling, two new professional UI layouts, 3 unique analog-style saturation modes, and a much more responsive FFT analyzer. Gate mixing, sub-preset loading modules and quick mouse controls round out the new workflow enhancements to enable you to work faster and smarter to get the perfect mix for your project.
MixControl Pro has 2 separate interface layouts, created by Anders Hedstrom (aka LimeFlavour) to allow users of different screen sizes and workflows to benefit from. We have worked closely with Anders, our users and our development team to integrate the most requested, useful and aesthetically pleasing interface features.
NEW FEATURES / ENHANCEMENTS:
» In/Out gain stages (+12dB)
» Solo for individual EQ bands
» 3 Unique new saturation modes
» Gate wet/dry mixing function
» Enhanced metering accuracy
» Adjustable FFT (fast/normal/slow)
» High-Quality oversampling mode
» 2 UI Versions (Extended+Refined)
» Smooth, anti-aliased display
» Mouse wheel EQ node control
» Right-click Filter selection
» User adjustable display colors
» Various workflow enhancements
» 64-bit OSX version (AU/VST)
Base Features:
» 2 Compression styles (transparent/colored)
» 3 level detection modes for gate/comp modules
» Ultra-responsive, flexible gate module
» Internal gate/comp sidechain with various filters
» Input/Output FFT with peak hold on EQ display
» 6 band precision EQ utilizing filter curve measurement
» Sub-preset loading and saving (EQ, comp, etc)
» 13 EQ filter types (HP/LP/BP/BS + various slopes)
» Brickwall limiter with release control
» 3 band stereo enhancer with auto make-up
» Dynamics metering (envelope follower/peak)
» 64-bit internal processing engine
You can purchase a MixControl Pro license for the introductory price of $99.00 until Friday, September 23rd, 2011. Current product users can purchase MixControl Pro for $59.00 through their user accounts. Once the introductory price is over, the regular (permanent) price of $129.00 USD will go into effect. Purchasing a license for MixControl Pro gives you access to both Macintosh (AU+VST) and PC platforms, as well as our Protools (RTAS) version, once it is available. No further licenses are necessary, and all formats are available in your user account after purchasing. A 14-day fully functioning demonstration version is availablefor download. Please make sure the software works properly on your system prior to purchasing.
DNR