KMI Debuts 12 Step, Chromatic Keyboard Foot Controller
Keith McMillen Instruments (KMI) has debuted 12 Step, a Chromatic Keyboard Foot Controller for musicians that is lightweight and portable.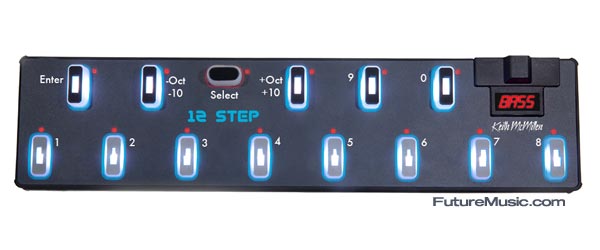 With 12 Step, keyboardists, guitar players, bassists, instrumentalists and vocalists can accompany themselves with their feet, playing bass lines, notes and chords. 12 Step opens up a new dimension in performance by giving your feet unprecedented expressive control using polyphonic aftertouch and pitch bend. Upon the heels of the success of SoftStep, KMI's versatile USB Foot Controller, 12 Step is another leap forward for performing musicians.
Features:
» Play and control your soft-synths, keyboards or sound modules via USB or MIDI (via $50 add-on)
» Familiar chromatic keyboard layout (13 keys)
» Play up to 5-note chords with a single touch
» Latch notes or chords, toggle them on/off or play legato
» Foot Pressure and Key Tilt supports Channel Pressure and Polyphonic Aftertouch
» Backlit keys and display
» Use your computer to set up assignments and setlists
» Small enough to fit in a backpack, weighs one pound
» Built with rugged elastomeric and carbon composite materials




The KMI 12 Step retails for $289, the optional MIDI Expander retails for $49.95. 12 Step will be available at leading online and musical instrument retailers worldwide in October, 2011.
KMI