Image-Line Releases Harmor – New VSTi Synth
Image-Line has released Harmor after a year of meticulous work by Didier Dambrin (AKA gol, the inventor of FL Studio, Sytrus, Harmless, Gross Beat, Maximus, Ogun and others). Harmor features a unique and modern additive synthesis engine that emulates classic subtractive synthesis as well, taking sound generation to the next level.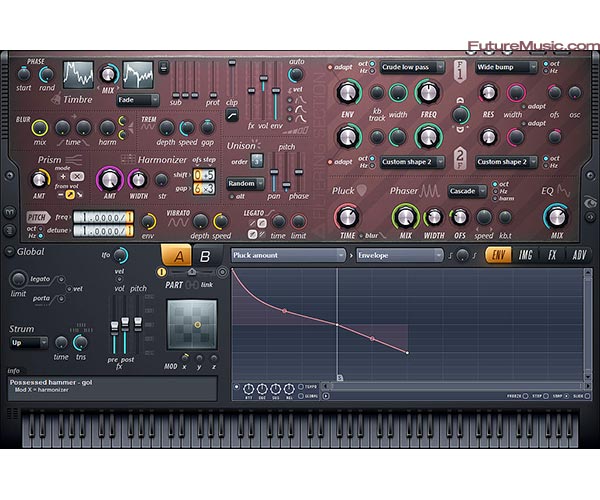 Features:
» Additive / subtractive emulation – generating sounds not possible with traditional synthesis methods, including the ability to draw custom filter shapes, and offering precise control over every aspect of the sound conception.
» Image & Audio Resynthesis – allowing a faithful, sampler-quality resynthesis of audio, not a vague sound-alike often met in additive synthesizers. Images too can be imported and turned into sound.
» Envelopes and articulation – as originally seen in Image-Line's flagship synthesizer Sytrus, are taken to new levels of features, flexibility and GUI integration.
» Sound creation – possibilities are endless, but not bewildering. Stutter, mangle, stretch, pitch and manipulate both audio and images beyond recognition.



Additive / subtractive
Just like its little brother Harmless, Harmor is driven by a powerful additive synthesis engine. Its modules will look familiar to subtractive synthesizer enthusiasts: oscillators, filters & phasers, these are featured in Harmor but, because performed through additive synthesis, offer more freedom. You don't just select filter types, you draw them. You wanted more, so also featured is the multipoint envelope editor of Sytrus fame, applied to over 40 parameters, in 2 independent parts. Through the same envelope/mappings, randomize any parameter or link it to key or velocity, and even fine-tune each unison voice independently. Processing units can be rearranged in a semi-modular way. If you need one of the 2 filter units processed after the blur unit, that's no problem.
Image synthesis
Because it typically requires manipulating large amounts (up to 500 per voice) of partials over time, additive synthesis is hard to handle. No human can (or even wants to) edit 500 envelopes, but editing 2D images, that we can do easily. Get access to gain & pitch planes which you can tweak in the image editor of your choice, and import any bitmap, even if it wasn't designed to be turned into audio, it might still sound interesting.
Audio resynthesis
Being an additive synthesizer, Harmor can resynthesize audio files as well. The reproduction will be faithful, not a vague sound-alike as in many additive synthesizers. Resynthesis can of course be tweaked, providing time stretching, pitch shifting, or less conventional manipulations of partials. And of course, the result of the analysis can still be turned into an image for further editing.
Efficient
Additive synthesis is generally very CPU-consuming, but not Harmor's engine. Its efficiency in fact quite comparable to the one of a subtractive synthesizer. Voices may be generating hundreds of harmonics in parallel and still not overload the CPU. Processing being multi-threaded, extra CPU cores come in handy.
Image-Line's Harmor is on sale until October 1, 2011, for $99, after which it will bump up to $149. It is available via FL Studio Native (FL Studio 10.0.8 update required) or as a VSTi.
Image-Line