Creative Trots Out X-Fi3 Digital Media Player
Creative had trotted out the latest incarnation of their ZEN media player, with plenty of flashy marketing, but basically the same meat'n'potatoes specs. The X-Fi3 comes fortified with what Creative calls X-Fi Restoration, plus Lossless Music Support, the apt-X Codec, a FM radio and Bluetooth. The Creative ZEN X-Fi3 music, photo and video player is 65 x 45.5 x 12.5 mm in size, and includes a microSD card slot, video-out, and 2″ TFT screen with touch-buttons.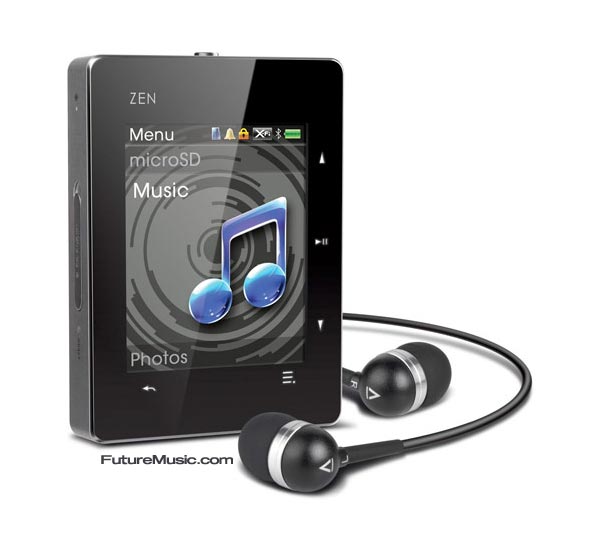 Creative loves coming up with pseudo-audio buzz words and the Fi3 sports several. The built-in apt-X codec allows users to enjoy wireless Bluetooth music transmission when Creative ZEN X-Fi3 is used with all compatible stereo Bluetooth devices. Creative ZEN X-Fi3 lets users re-experience their music in "pristine crystal clear quality" and detail through the "revolutionary power of X-Fi." Creative claims their X-Fi Crystalizer will allow users to experience their compressed digital music with lost details restored. With X-Fi Expand, users will enjoy the most natural sound staging available in headphone audio today. (Talk about laying it on thick here…and going overboard. This technology does not impress. —Ed.)
Creative ZEN X-Fi3 features support for lossless audio formats (FLAC files) besides accessing all their content and music in various formats such as MP3, WMA and Audible 4. In addition, the player also supports iTunes Plus (unprotected AAC .m4a files).
Features:
» Display: 2″ TFT with 262K colors
» Capacity: 8GB, 16GB
» Wireless: Bluetooth 2.1 (supports apt-X, AVRCP & A2DP)
» Audio formats: FLAC, non-protected AAC (*.M4A) from iTunes Plus® , MP3, WMA (DRM9), WAV(IMA-ADPCM), Audible Format 4, Audible AAX
» X-Fi Audio Enhancement : Adjustable Crystalizer / Expand effects
» Video formats: WMV9, MPEG4-SP, AVI (DivX4/5, XviD)
*»Video / Audio out : PAL or NTSC / Stereo (via A/V cable sold)
» Photo formats: JPEG
» Built-in Microphone for Voice Recording
» Built-in FM Radio with 32 station presets
» Built-in Speakers for sharing music out loud
» Claimed Battery Life: 5 hours video, 20 hours audio
» Dimensions: 65 x 45.5 x 12.5mm (est.)
» Weight: 50g
The Creative ZEN X-Fi3 portable media players will be available at the online store at creative.com/shop in Europe from end Oct 2011 onwards for: ZEN X-Fi3 8GB $99.99 / ZEN X-Fi3 16GB $139.99.
Creative