xMix Unleashes Logic Edition – iOS Controller App
xMix has released Logic Edition, the first release in our xMix series of dedicated DAW Controllers for iOS devices. The xMix application seamlessly connects via Wi-Fi to any Mac running Apple Logic and forms a unique and interactive DAW control environment. The app claims to provide total control over almost all aspects in the Logic Studio workflow.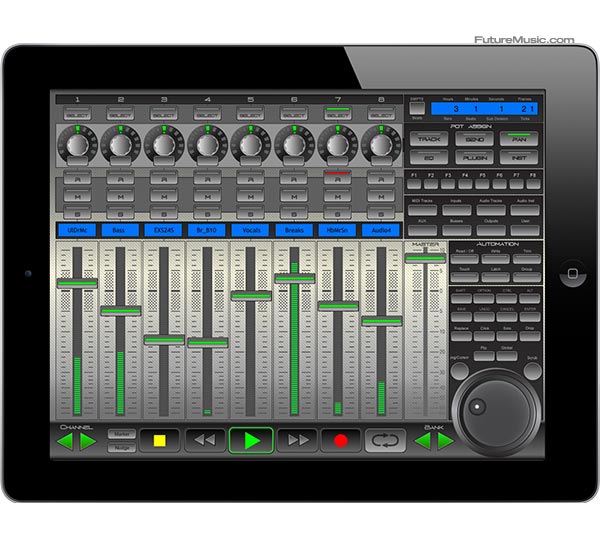 No drivers required. Powered by CoreMidi Networking Technology with low latency, xMix-Logic Edition connects wirelessly and seamlessly interacts with Logic Pro 9. The xMix user interface displays the absolute state of play in Logic Pro direct to your iPad. Giving you the freedom to control your session from anywhere within wifi range, delivering a new sense of control in your studio.
Features:
» Unlimited Tracks (in banks of eight)
» 8 Virtual Faders assignable to almost any purpose.
» 8 Virtual Multi-purpose Rotary Pots for controlling EQs, Pans, and auto-mapped plugin/instrument parameters
» Complete Channel Strip Control over Pans, Solo, Mute, Record arm.
» Full VU db Meter displays for each channel.
» Scribble LCD strip displays name for each highlighted track.
» Full Transport Control
» Multiple Function Control
» Logic Screen and Views Control
Equalizer Control
For each channel, with one touch you have the power to access, control and modify the current EQ settings, with a mix of faders and VPots you can infinitely and precisely control each band of EQ.
Instruments
Once your instrument has been selected xMix auto-configures all controllable parameters to the either the 8 VPots, 8 Faders, or a mix of both. Each control available is noted in the LCD display area so you are always 100% on top of the controls.
Plug-Ins
Once in Plugin Mode, xMix will offer you access to all the plugins loaded in the channel. As with the Instruments, xMix automatically maps the available functions and parameters to the 8 VPots or faders.
Transport Control
All the important Play, Stop, FF, Rewind, Record and Loop are situated at the bottom of screen. you can also use the scrub wheel to surf from one end of the track to the other.
Multi Functions
xMix offer a wide range of extra controls over your Logic session. From automation to general copy pasting xMix has it all available directly from your iPad.
View Control
xMix gives you easy control over the views and screens which presented in Logic. Direct from your iPad you can open close the mixer window, select form audio/midi/instruments channels, quickly change to notation mode. Any screen you want to access, with one or maximum 2 touches you are there. No more reaching for the mouse, just touch and go..
xMix's Logic Edition costs £10.99 / $15.99 / €12.99 via the Apple Appstore.
xMix Logic Edition