Serato Releases ITCH 2.0
Serato has upgraded ITCH to version 2.0 ITCH 2.0 is the latest update for Serato ITCH, a digital DJ software designed to work with carefully co-engineered controllers made by Vestax, Numark, Allen & Heath, Pioneer and Novation.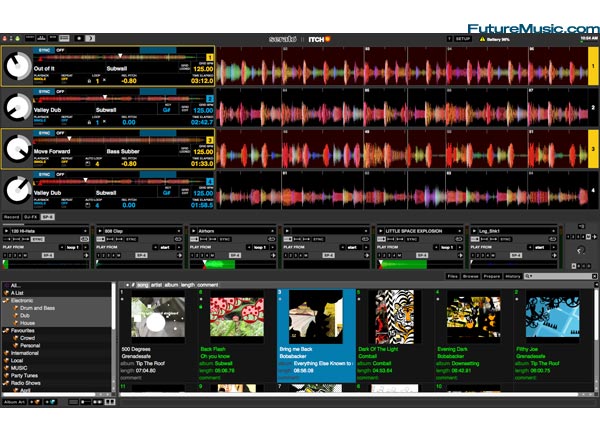 ITCH 2.0 is the first version to include a re-optimized sync engine, with all new Serato SmartSync technology. Serato's unique SmartSync smashes the traditional notion of master/slave states, creating an entirely new sync structure behind the scenes. This technology, teamed with precise beatgrids, locks grooves for smooth, intuitive syncing of multiple audio sources. A fresh new look is premiered in ITCH 2.0, with changeable Night & Day modes for clear navigation in any venue, at any time of the day. A range of display modes lets DJs choose their preferred deck and waveform arrangement; either vertical, horizontal or library mode. Album Art Views have also been added for enhanced library browsing.
The Serato SP-6 Sample Player makes its debut in ITCH 2.0, complete with Serato's SmartSync. The SP-6 Sample Player offers four banks with six slots each to trigger drops, loops and whole songs seamlessly into the mix. Library Management has been improved so DJs can easily copy crates and tracks to external drives for gigs. New Smart Crates auto-fill with tracks using chosen keywords from a DJs music library and Serato Playlists allows for easy sharing of tracklists, either as they play, or online afterwards.
Features:
» New Interface
» Changeable Night & Day mode
» New SP-6 Sample Player including Sample Sync
» Multiple display modes to suit different styles of DJing – vertical, horizontal, stack and library views
» Re-optimized Serato SmartSync engine for precise grids and locked grooves
» Improved Library Management so you can easily copy crates & tracks to external drives for gigs
» Smart Crates which auto-fill using keywords from your music library
» Serato Playlists to share your tracklists either as you play, or online afterwards
» Album Art Views for enhanced browsing
» Improved Instant Doubles functionality, including support for 4 decks




Serato ITCH 2.0 is available now as a free update.
Serato