SONiVOX Premiers TWIST Spectral Morphing Synthesizer
SONiVOX has released TWIST – Spectral Morphing Synthesizer, the newest instrument from their NEMESYNTH Audio Research Group. TWIST is a new tool for musicians, producers, and sound designers that combines a brand new type of synthesis, intelligent performance controls, and an intuitive GUI designed to give the user control over a new and unique sound engine which sounds can easily personalized to meet each user's individual needs.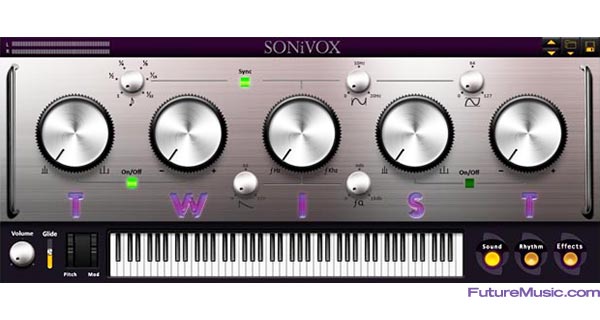 Features:
» New Patent Pending Spectral Morphing Synthesis engine
» Ultra-user-friendly graphical user interface that makes sound creation and personalization easy
» Over 200 factory presets that can be easily personalized into thousands
» MIDI Learn & Save Function – Lock TWIST's controls up with any midi controller
» Onboard tempo-synced variable resolution pattern generator
» SONiVOX's Intelligent Rhythm Control (I.R.C)
» Onboard chorus, tempo sync delay, and reverb fx
» PC Standalone, VST and RTAS Compatibility
» MAC Standalone, AU, VST, and RTAS Compatibility
TWIST marks the second release from SONiVOX's NEMESYNTH Audio Research Group. Spearheaded by noted audio guru and scientist Jim Van Buskirk, pioneer inventor of the virtual instrument, modern computer driven sampling, and real-time low-latency convolution, SONiVOX's NEMESYNTH Audio Research Group's sole purpose is to discover, research, and develop revolutionary new enabling technologies for musicians everywhere. And boldly go where no sound has gone before!




SONiVOX's TWIST – Spectral Morphing Synthesizer is available now for $149.99, is MAC & PC compatible and will work with most major DAW software as a VST, AU, and RTAS plug-in.
SONiVOX