Avid Upgrades Sibelius To Version 7
Avid has released Sibelius 7, the newest version of the company's flagship musical notation software. Combining a deep, sophisticated feature set with an all new task-orientated user interface, Sibelius 7 enhances music writing through intuitive and flexible workflows and improved tools for increased collaboration. Compete with a newly recorded professional-quality sampled sound library, native 64-bit performance, full MusicXML interchange support, and advanced typography and grahics features, Sibelius 7 is more powerful and versatile than ever before.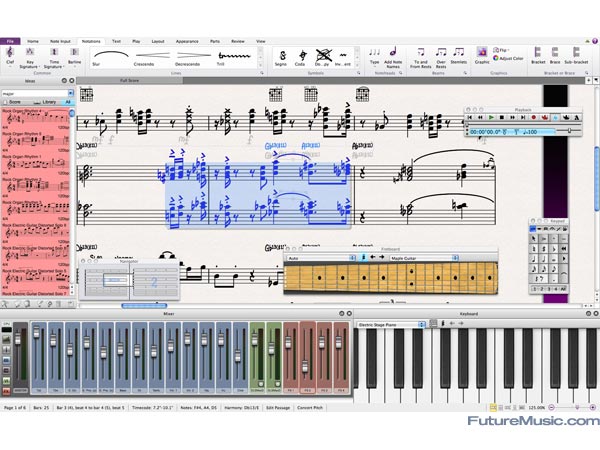 Enhancements:
» New and exclusive professional-quality sound library – Unique to Sibelius, the new professional-quality sound library delivers musical realism to scores during playback. It includes the Avid Orchestra, a specially recorded full symphony orchestra, a collection of rock and pop sounds from the Avid virtual instrument team, a 27-stop church organ from leading virtual organ creator Hauptwerk, and a selection of sounds from Sample Logic Rumble and Fanfare featuring 14-time world champion Drum and Bugle Corps, The Blue Devils.
» Completely redesigned task-oriented user interface – Optmized for single-display systems, the new user interface employs a graphical toolbar and dockable panels that don't obscure the working area, putting all of the software's features at the user's fingertips. The redesigned mixer also allows finer control of playback than ever before, delivering more balanced mixes.
» Full MusicXML interchange – Complete MusicXML import and now export makes sharing files with hundreds of music applications, including Finale®, easier than ever.
» 64-bit performance – Sibelius 7 is the world's first native 64-bit notation software, and has been completely rewritten to take advantage of the performance of today's incredibly fast 64-bit hardware and operating systems.
» Powerful text, graphic and sharing options – Publisher-quality typography and graphics import/export capability delivers finished scores with professional-quality text and graphics. Publish and export demanding layouts and text-heavy scores with advanced finishing options, including direct PDF and EPS export. Also sync with or import notation from Pro Tools®, or export scores as Scorch® files, then share or publish them on the web or via Avid Scorch for iPad.
Avid's Sibelius 7 is now available for $599 / £459 / €549.
Avid