Reloop Premiers Economical RHP-5 Series DJ Headphones
Reloop has premiered the RHP-5 Series DJ headphones with integrated iPhone control. The compact and lightweight RHP-5 features rotating ear cups and a collapsible design for easy storage and portability. This stylish headphone also includes a microphone and an answer/mute button and works with all smartphones with 3.5mm jack including iPhone and BlackBerry. It also includes a volume slider and a convenient shirt clip.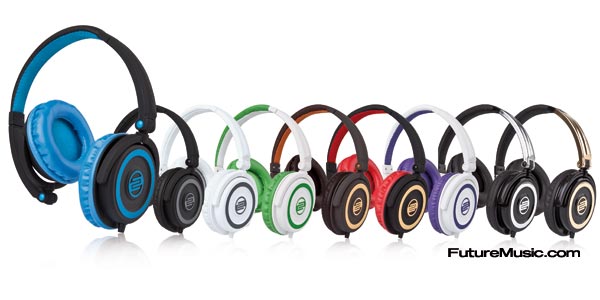 The RHP-5 boasts quality drivers that claim to deliver a full, rich sound with crisp highs and deep bass. Sleek aesthetic design features include a smooth rubber finish, aluminum inlays on the ear cups, and nine eye-catching color options, including Black, White, Cherry Black, Ceramic Mint, Purple Milk, Flash Black, Gold Rush, Solid Chrome, and Chocolate Crown.
Features:
» Professional, compact DJ headphones
» Rotary and retractable construction
» Smartphone control incl. microphone for iPhone, BlackBerry, and others
» Rubber finish
» High quality headband with aluminum bar
» Double headband casing
» One-sided cord routing
» All connections gold plated
» Includes 1/4″ adaptor
The Reloop RHP-5 headphones will be in stores August 1st for $59.99.
Mixware