Touch Digital Controllers Announce impOSCar2 Controller
Touch Digital Controllers have launched their new company with the impOSCar2 Controller. The impOSCar2 controller had its roots via the GForce ImpOSCar 2 controller by Mario Jurisch. Touch Digital Controllers Ltd was formed in 2010 by Richard Lawson and Kent Spong, both of whom have been working directly within the music industry for over a decade serving the vintage instrument community through their respective businesses: RL Music and KSR.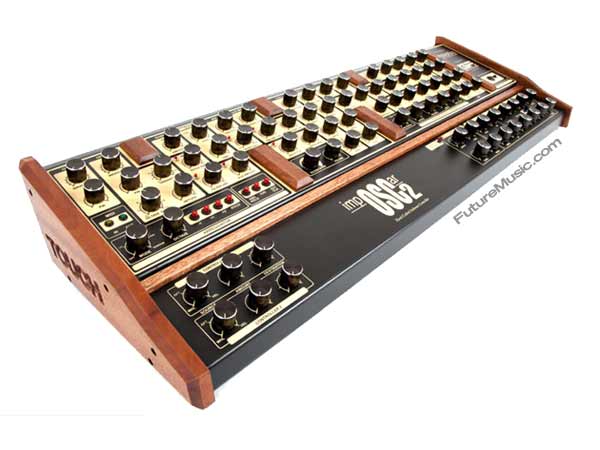 This is one attractive controller with 101 control inputs comprising; 83 aluminium knobs, 7 LED lit buttons, 2 punch in/out switches and 9 momentary buttons with 9 linked led, MIDI in/out LED, MIDI-in and 128 channel simultaneous USB and MIDI out processor. The 101 panel controls are all voltage controlled components so give the player the highest possible resolution into the digital domain.
The custom made USB/MIDI processor is the first commercially available 128 channel device in the world. To reduce costs and size, Touch Digital wanted this processor to be able to handle the maximum number of MIDI cc channels possible on a singe board. The processor is configured from Touch Digital to operate the impOSCar2 software instrument across only a single MIDI channel. This was the design brief from GForce but the processor is capable of transmitting simultaneously across 3 separate Midi channels. The impOSCar2 Controller conforms to industry standard MIDI protocols so can be used as a controller for any software instrument when utilizing MIDI learn.
The case has been fabricated from 2mm thick sheet steel which has then had 223 precision laser cut holes applied and then formed to make the design. The panels have then been powder-coated and oven baked for a hard wearing satin black finish. This whole process was handled by a precision engineering company based on our design brief and the finished chassis is the culmination of hundreds of hours work.
The Controllers panels functions, outlay, colors and artwork design have been produced with the full cooperation and approval of GForce. The final working instrument is an extremely close representation of the software graphical user interface (GUI). There are certain differences and some deeper software functions that cannot be replicated in the physical realm but on the 'large' GUI option within the impOSCar2 software instrument you can see the closest match to the Controller with a precision engineered steel and powder-coated case.
The vintage look – real and thick Oak and Mahogany wood end-cheeks and inserts – all beautifully finished by hand at the dedicated Touch Digital wood-working room – choice of ebony (satin black on English Oak) or natural (furniture grade) Mahogany – same wood as used on the early Minimoogs.
System requirements: As the impOSCar2 Controller is a MIDI device so is not dependent on any particular operating system or hardware platform as long as you have a Audio/MIDI device to process external MIDI into your computer or just a USB socket. You will need a USB cable (supplied) or MIDI cable and a power supply for the Controller (Also supplied).
The Touch Digital impOSCar2 Controller costs £749 plus VAT @ 20% (for EU customers only) and shipping.
Touch Digital